Aisan Daulat Begum who died in June, 1505 was the Queen consort of Moghulistan and the first wife and chief consort of Yunus Khan, a descendant of Chagatai Khan (second son of Genghis Khan).
Aisan Daulat Begum was the mother of Qutlugh Nigar Khanum, and hence the grandmother of the first Mughal emperor, Babur. She served as de facto and counsellor while her grandson was in reign from 1494 to 1505.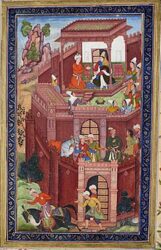 Quick Facts
Full Name: Aisan Daulat Begum
Born: Not known
Died: June 1505
Tenure: c. 1456 to 1487
Religion: Islam
Dynasty: House of Borjigin (by marriage)
Spouse: Yunus Khan
Father: Shir Ali Haji Kunji Beg
Mother: Not known
Famous as: Queen consort of Moghulistan
Family
Aisan Daulat Begum was the daughter of the Sagharchi Tuman Begs in a subdivision of the Kunchi Mughals. Mir Sher Ali Haji Kunji (Qunchin) Beg was her father who was a powerful tribal chief. She was the sister of many brothers. Shriram Beg, Mazid Beg and Ali Dost Beg were three out of them who took leading parts in Babur's businesses.
Marriage
Abu Sa'id Mirza had become the ruler of Transoxiana in 1456, then he was sent for Yunus Khan. Abu Sa'id got irritated because of the frequent raids by the Moghuls under Esen Buqa into his territory. He then lifted Yunus to the khanship and sent him to the Moghulistan with a big army in opposition of his brother. There Yunus Khan achieved lot of support from many amirs. He met Aisan Daulat Begum there and married her.
Her role in contemporary politics
Aisan Daulat Begum had played a significant role in the present time politics right from her young days till the time she was about to get married. As per Baburnama Yunus Khan after marrying Aisan Daulat Begum were seated on a white felt.
Her role in Babur's success
Aisan Daulat Begum was born in the desert, had self-reliance, courage for facing misfortune and calamity. She had a strong affection in grandson Babur. Together they became the constitutive part of Babur's character and later she was known to be the key to his success.
Aisan Daulat Begum had faced many sufferings for her husband's life for thirty years. Many times, she fell into her hand's enemies but she was able to get out them safely.
Daughters of Aisan Daulat Begum
Aisan Daulat Begum had three daughters with Yunus Khan: Mihr Nigar Khanum, Qutlugh Nigar Khanum, and Khub Nigar Khanum. Her eldest daughter was Mihr Nigar Khanum, whom Sultan Abu said Mirza took for his eldest son Sultan Ahmed Mirza. She had neither a son nor a daughter by Mirza. Qutlugh Nigar Khanum was her second daughter who was married to Umar Shaikh Mirza II, the King of Ferghana Valley. She was also the mother of the Emperor Babur. Khub Nigar Khanum was her third daughter who was married to Muhammad Hussain Korkan Doghlet. She had a son and a daughter by him.
Hard labour of Aisan Daulat Begum
In Kashgar, in 1455-56, when her daughter Mihr Nigar Khanum wasa baby, Aisan Daulat Begum was imprisoned. She was able to return safely to her husband later. In 1472-73, she was again captured in In Tashkent when Yunus Khan had gone to market in Mughalistan. She again returned to her husband honorably.
Her role in betterment of Yunus Khan's health
Aisan Daulat Begum played a significant role in the transformation of her husband's extraordinary career for next thirty years. There was a time when her husband was paralysed fro two years and she looked after him till his death in 1487. That time she was too old (74 years old) to nurse him day and night. As a result she survived him for about eighteen years.
Babur's counsellor and advisor
Aisan Daulat Begum had a great contribution in preparing Babur a disciplined and conservative man. In his early struggling life, she played her role as his counselor. After the death of Umar Shaikh Mirza II in 1494, when Babur was just eleven years old, he was surrounded himself by enemies from his own families. Aisan Daulat Begum took care of him right from that time. She helped him overcome many political obstacles. Babur used to take advice from her related to the real administrative power and state affairs.
Babur's protector
Many times it had happened that Aisan Daulat Begum saved Babur from the evil designs of Hasan-i-Yaqub, who had no idea how powerful was she ans she was the one who was the backbone of the her grandson Babur success and achievements.
There was a time in Andijan in 1497, when Kinsfolk took the town from Babur and sent to Khujand. She was also sent there after him. Then she went to Kashgar to protect it which was her third daughter's home. Aisan Daulat Begum stayed in Samarkand in 1500-1, when Shaivam took the town from Babur after Babur left the town. She reunited with Babur and family after a few months when everything got settled down.
Importance of Aisan Daulat Begum in Babur' life
Aisan Daulat Begum continued to be the great supporter and advisor for her grandson in those days when he was a migrant. She used to relate him to stories of the military exploits of Genghis Khan Timur. These stories helped him in the art of warfare. Once Babur said for his grandmother Aisan Daulat Begum that: "Few among women will have been my grandmother's equal for judgement and counsel; she was very wise and farsighted and most affairs of mine were carried through under her advice."
Death
Aisan Daulat Begum dies in jine 1505 wne Babur was in Kabul. He got this bad news during the forty days mourning for his mother.