Ajanta Caves
The Ajanta Caves are located in Aurangabad district of Maharashtra which are approximately 30 rock-cut Buddhist cave monuments. It is a group of 29 caves called Ajanta Ellora Caves. It is believed to have been inspired by Buddhist architecture which has been considered one of the very best examples of old traditional Buddhist civilizations. These caves depict Buddha and many of his stories. A lot of paintings have also been done here, it seems as if the paintings are alive.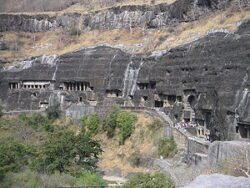 Visiting Detail
Location: Mumbai, Maharashtra
Timings: 9:00 am to 6:00 pm
Closed: Monday
Entry fee: Chargeable (starts at Rs.40 per person)
Type: Rock cut caves | Monument
Architecture: Cathedral-style architecture
Built: During the reign of Harisena, a king of Vataka dynasty
Year of Construction: 480 CE
---
Art in the caves
The art of the caves takes us back to the ancient stories.Kailash Temple Wall Inscriptions are some of the interesting things which impress a lot in the cave. Engineers are appreciated for displaying the art here. This place was declared a UNESCO World Heritage Site in 1983. There are beautiful paintings, contemplative sculptures and postures in the caves of Ajanta Ellora.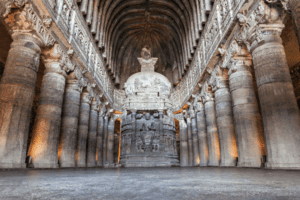 Nearby Places
There are many such temples here which are very popular like Kailash Temple. One can see Biwi Ka Maqbara and Daulatabad Fort as well as the Buddhist monastery outside the cave complex.
Things to keep in mind
Ajanta Ellora Caves are quite large and it may take you a long time to travel the whole place. Yo may feel tired and thirsty. So, make sure you have drinking water and light food with you. However, there are many such counters on the way where water is also available and you get some snacks to eat. There is also an MTDC restaurant on both sides of the top caves.
How to reach Ajanta and Ellora caves
Ajanta is 100 kilometres away from Aurangabad while Alora is just 30 kilometres away. You can reach here either by hiring a taxi or by bus. You can also reach Aurangabad by rail. The nearest station from Ellora is Jalgaon. Ajanta and Ellora caves are the closest if you are getting down at the station.
---