Albert Hall Museum in Jaipur
Albert Hall Museum in Jaipur (also known as Government Central Museum) stands out as a true gem in the city of Jaipur, India. It was built in 1876. It was originally intended to serve as a town hall and a venue for public events. Later it was converted into a museum and was named after King Edward VII, who was also known as the Prince of Wales at the time of the building's construction
The museum is a showcase of Rajasthan's rich cultural heritage and history. It has a lot of impressive collection of artifacts.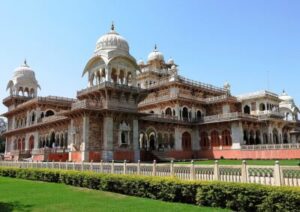 Visiting Detail
Location: No. 98, 99, Johari Bazar Road, Bapu Bazar, Biseswar, Jaipur, Rajasthan – 302003
Closed on: All 7 days open
Timings: 9:00 am to 5:00 pm | 7:00 to 10:00 pm
Entry Fee: Foreigners: Rs. 300 per person | Indians: Rs. 40 per person | Foreigner students: Rs. 150 per person | Indian students: Rs. 20 per person
Best time to visit: October to March
Is Photography allowed: Not allowed
---
Architecture
The museum is a beautiful example of Indo-Saracenic architecture, a style that combines elements of Indian, Islamic, and European design. The building is made of red and white sandstone, which gives it a unique appearance.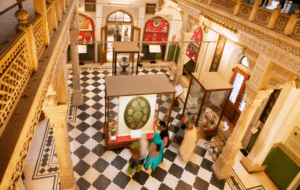 Features of Albert Hall Museum in Jaipur
Inside, visitors can explore a vast collection of artifacts, including sculptures, paintings, weapons, and textiles, that span centuries of Indian history.
Albert Hall Museum has an expansive courtyard which has a number of impressive sculptures and fountains.
The central hall of the building is surmounted by a large dome which is adorned with beautiful murals and paintings depicting the history and culture of Rajasthan.
One of the main features of the museum is Egyptian mummy which is over 4,000 years old. The ruler of Jaipur, Maharaja Sawai Ram Singh II had brought this.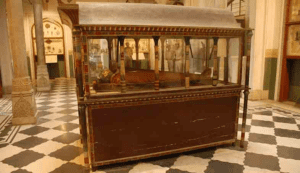 There are a collection of miniature paintings which provide a glimpse into the lives and traditions of the people of Rajasthan.
The museum has ancient potteries and sculptures to intricate textiles and ornate jewelry.
The museum also has a collection of arms and armor including swords, shields, and guns. These items give a detailed view of the military history of Rajasthan and the role of the weapons played in ancient battles.
There are collection of puppets made of wood, cloth and other materials in the museum. These puppets are designed to tell stories and entertain audiences about the rich culture and tradition of Rajasthan. Visitors can see puppet shows at the museum.
Another feature of the museum is the Tibetan gallery, which consists of a collection of Tibetan art, including thangkas, sculptures, and other artifacts.
The museum also has a library that which has a collection of books and manuscripts on Indian history and culture. The library is open to the public.