Bahadur Shah II or Bahadur Shah Zafar, born as Mirza Abu Zafar Siraj-ud-din Muhammad on 24th October 1775 was 19th and the last Mughal Emperor. After the death of his father Akbar Shah II and being the second son, Bahadur Shah II became his successor. He was a less powerful Mughal Emperor whose command was restricted to only Shahjahanabad (Old Delhi).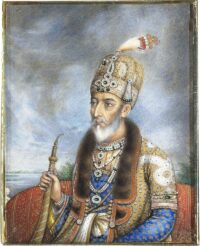 After the Indian Rebellion of 1857, the British had expelled him to Rangoon (capital of Myanmar) in British controlled Burma on declaring several criminal charges on him. The British had imprisoned his father Akbar Shah II.
Quick Facts
Full Name: Mirza Abu Zafar Siraj-ud-din Muhammad
Born: 24th October 1775
Died: 7th November 1862
Reign: 28th September 1837 to 21st September 1857
Religion: Islam
Spouse: Ashraf Mahal, Akhtar Mahal, Zeenat Mahal, Taj Mahal
Father: Akbar Shah II
Mother: Lela Banu Begum
Famous as: 19th Mughal Empire (Shahenshah-e-Hind)
Akbar Shah II didn't want Bahadur Shah II to be his successor. Moreover, Mumtaz Begum, one of his father Akbar's wives wanted his son Mirza Jahangir to be his successor. But the British expelled Mirza Jahangir after his attack on Red Fort which was their resident that time. Thus Bahadur Shah Zafar was the only choice to take the throne.
Reign
Bahadur Shah Zafar ruled in the early nineteenth century which was only restricted to the old Delhi region (Shahjahanabad) and the surrounding areas like Palam (South West Delhi). The Maratha had ended the rule of Mughal Empire in the 18th century. The regions which were formerly under the Mughal Empire were now occupied by the Marathas and declared independent.
East India Company was not the dominant power in the middle of the nineteenth century. There were many small kingdoms outside the East India Company and the emperors were respected by the company and also provided with the pension. In return the company has the permission to collect the taxes from from Delhi and maintain military forced in the area.
Bahadur Shah II denied to indulge in this type of political interest and so the British East India Company had expelled him out of Delhi after the Indian Rebellion of 1857.
Bahadur Shah II was a poet and many of his poems and Urdu Ghazals were destroyed by the British after the Indian Rebellion of 1857.