Bibi Ka Maqbara in Aurangabad
Bibi Ka Maqbara is a historical monument located in Aurangabad, Maharashtra. This is also referred to as the "Taj Mahal of Deccan India". It is a tomb built by Prince Azam Shah, son of the Mughal Emperor Aurangzeb, in memory of his mother Dilras Banu Begum, also known as Rabia-ud-Daurani.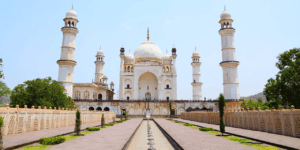 Visiting Detail
Location: Begumpura, Aurangabad, Maharashtra 431004
Timings: 8:00 am to 8:00 pm
Closed: All 7 days open
Entry fee: Chargeable (Rs.25 onwards per person)
Type: Tomb
Architecture: Mughal Architecture
Architect: Ata-ullah, Dhanpat Rai
Year of Construction: 1668
---
History and construction of Bibi Ka Maqbara Mumbai
The construction of the mausoleum began in 1651 and was completed in 1661. It is an imitation of the famous Taj Mahal of Agra, which was built by Aurangzeb's father, the Mughal Emperor Shah Jahan, in memory of his wife Mumtaz Mahal.

The Bibi Ka Maqbara was built at a cost of 6,68,203 rupees. The monument is made of marble and stands on a high platform, which is surrounded by beautiful gardens. The main structure of the mausoleum is square-shaped and has four minarets at each corner. The central dome of the mausoleum is also made of marble and is decorated with twisted designs.
Why is Bibi Ka Maqbara Mumbai called the Taj Mahal of Deccan India?
There is a lot of similarities between Bibi Ka Maqbara and Taj Mahal in the overall design of the structure, including the use of white marble, beautiful carvings, and calligraphy. However, the size and scale of the two structures are quite different, with Bibi Ka Maqbara being smaller in size than the Taj Mahal.
Architecture of Bibi Ka Maqbara
The design of the mausoleum is a fusion of Mughal and Deccan architectural styles, featuring a mix of Persian and Indian designs.
The interior of the structure has a central chamber that houses the tomb of Dilras Banu Begum. The chamber is decorated with beautiful paintings and carvings.
Bibi Ka Maqbara has a reflection pool, which is surrounded by beautiful gardens, which add to the serene and peaceful atmosphere of the mausoleum.
How to reach Bibi Ka Maqbara
The most convenient way to reach Bibi Ka Maqbara is to hire a taxi or take a rickshaw in Mumbai and can take you to the monument.

Another option is to take a train from Mumbai to Aurangabad. Aurangabad is well-connected by rail, and there are several trains that run between Mumbai and Aurangabad every day.