Akbar is better known as "Akbar The Great". Abu'l-Fath Jalal-Ud-Din Muhammad Akbar was the third Mughal Emperor who ruled from 1556 to 1605. He was a very successful Mughal Emperor who expanded the Mughal Empire to most of the Indian subcontinent with the help of his powerful military. This Mughal Emperor had a consolidated administrative system within his empire. In addition to this, Akbar had a policy of making peace among the defeated rulers through talks and marriages. Akbar's son Prince Salim succeeded him. His son was later known as Jahangir.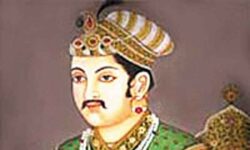 Quick Facts
Early Life
When Sher Shah Suri defeated Akbar's father Humayun in the battles between 1539 to 1541, Humayun went to Sindh. There he met Hamida Banu Begum and married her. She was the daughter of the Persian teacher Shaikh Ali Akbar Jami who was teaching Humayun's younger brother, Hindal Mirza. Akbar was born in 1542 at the Rajput Fortress of Amarkot.
Akbar grew up in Kabul with his paternal Uncles Kamran Mirza and Askari Mirza. He learnt to fight, hunt and run under their supervision. This helped Akbar to become a powerful and brave warrior. He didn't learn to read and write.
Humayun was shattered after his younger brother's death in a battle. So in the memory of Hindal Mirza, Humayun engaged his brother's daughter Ruqaiya Sultan Begum with his son Akbar. Ruqaiya Sultan was just nine years old at that time and Akbar was appointed as the first viceroy. And he was also commanding his Uncle's army. Both of them married in Jalandhar at the age of 14 years.
Humayun died in 1555 after he reconquered Delhi. Akbar succeeded his father in 1556 at the age of 14 years.
Later Life
Akbar was a very strong and successful Mughal Emperor. Under the influence of his power he successfully extended the Mughal Empire to the entire subcontinent. Akbar was famous for both muslim and non Muslim community. Because he had adopted a common ruling policy to support both the communities.
During this time India was a strong and stable economic country. Akbar had created a powerful military system during his rule. As a result, he had increased the size of the Mughal Empire to the triple of the previous size.
Akbar had a great interest in literature. Thus he had a big library of Sanskrit, Persian, Urdu, Kashmiri calligraphy. Akbar had created a library in Fatehpur Sikri especially for women. His court was the center of arts and learning. Famous poets, artists, architects from all over the world used to visit his court for discussion and study.
Personal Life
Akbar loved to keep thousands of cheetahs and train them. Akbar was a wise emperor, a great warrior and had a sharp memory. He had broad shoulders and had a light brown complexion. Akbar was not tall but had a strong built. Akbar used to wear a moustache. He was a daring and risk taking king. Akbar was very affectionate towards his family and relatives. He drank Ganga river water which he called the "water of immorality". He liked to eat fruits and meat.
Military Operations
Akbar had a long list of successful military operations that had merged in the Mughal rule. His military structure had the Mansabdari system which supported the Mughal power to lift. In later years he made many organisational reforms by including the use of elephants, cannons etc. Akbar made use of matchlocks in many difficult situations. During his rule Mughal firearms were far superior than any other regional rulers.
Battles
This battle took place between the north Indian hindu emperor Hem Chandra Vikramaditya and the forces of Akbar on 5th November 1556. Akbar with Bairam Khan marched to Panipat with the military forces to recover the lost territories. His army had 10000 cavalry used in the war. It was the first victory for Akbar when he was just 13 years old.
This battle held on 18th june 1576 between Maharana Pratap, Rana of Mewar and the forces of Akbar. This battle was fought in a narrow mountain passage, located at Haldighati in Rajasthan. Maharana Pratap had around 3000 cavalry whereas Akbar fought with more than 5000 men. This battle resulted in the victory of the Mughals.
This was the battle between the Mewar kingdom and Mughal Empire. Akbar forces had surrounded and captured thousands of Rajputs of Chittorgarh. This battle also resulted in the victory of Mughals.
This battle held on 5th April 1567 between the two rival groups of Sanyasis and Mughals under Akbar's control. This happened near the banks of the Saraswati Ghaggar river in Haryana. Akbar's forces killed more than 500 Sanyasis in this battle. The war resulted in the dismissal of the Sanyasis from the camps of the Mughal emperor.
This battle held on 8th February 1568 between the Rajputs of Ranthambore and the forces of Akbar. After the victory of Siege of Chittorgarh and battle of Thanesar Akbar had emerged a strong and unbeatable warrior. Now he had a massive army including 50,000 men, cannons, matchlocks and war elephants. As a result, Akbar's forces were able to capture the Ranthambore fort.
Defeat of Rajputana
Mughals were already ruling the parts of Northern Rajputana of Mewar, Ajmer and Nagaur. The Mewar fortress capital, Chittor Fort was of high importance at that time. Moreover, it was the place for the shortest route between Agra and Gujarat.
Akbar with his army sieged Chittorgarh in February 1568 for four months which caused the downfall of the fort. He killed the non combatants and guards brutally. And to show his power, he displayed their heads on the towers built in the region. Akbar celebrated his victory by staying there in Chittorgarh fort. Thus he had broken Udai Singh's power and impact.
After felling of Chittorgarh fort Akbar attacked Ranthambore Fort in the same year. Now he was the power ruler and had mastered most of Rajputana. Akbar also defeated Udai Singh's son in the battle of Haldighati in 1576. Now most of the Rajput Kings had surrendered to Akbar.
He celebrated his victory by deploying a new capital called Fatehpur Sikri. Fatehpur Sikri is also known as "the city of victory". Though Rana Pratap Singh had retained most of the kingdom later while Akbar was in power.
Conquest of Eastern and Western india
Akbar's next goal was to control Bengal and Gujarat which were the connecting trading centres of Asia, Africa and Europe. Gujarat was a good source of agricultural production, textiles and industrial goods. It was also one of the busiest seaports in India. Akbar had plans to connect it with the north Indian River plain.
Buland Darwaza
In 1572, Akbar occupied Ahmedabad showing his supreme power. Mirzas were under pressure to vacant the cities. Surat was surrendered to the Mughals. After his command on Gujarat Akbar returned to Fatehpur Sikri. And he built Buland Darwaza in celebration of the victory over Gujarat.
Buland Darwaza has the main entrance for Jama Masjid. It is the highest gateway in the world which is a perfect example of Mughal architecture. It is 40 metre high and 50 metres from the ground. This building has 15 stories and has large free kiosks on the top known as Chhatris. The building is made of red sandstone and decorated by black and white marble.
The Mughals snatched Patna from Daud Khan in 1574. Akbar and his forces got another victory in the battle of Tukaroi in 1575. This led to the conquest of Bengal and Bihar which was under the supremacy of Daud Khan.
Death
Akbar was suffering from dysentery for the last one month before he died. He was severely ill and didn't recover from it. After Akbar's death on 27th October 1605, his body was buried in Sikandra, Agra at his tomb.