Botanical garden is located in Colaba, Mumbai. This garden is also known as Bombay Port Trust (or Sagar Upvan). The Botanical garden is spread in a 12-acre area vaing big green lawns, beautiful trees. It has a wide running track upto a distance of 650 metres.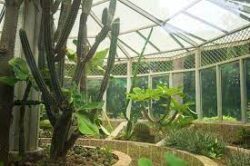 Visiting Detail
Location: Colaba, Mumbai, Maharashtra
Timings: 6:00 am to 11:00 am | 4:30 pm to 8:30 pm
Entry fee: Paid
Area of the Botanical garden
The Botanical garden in Mumbai is a huge Garden which is hidden away in Colaba with the view of the sea. It is covered by the glass surrounding the garden where a lot of butterflies hang around. It is a 12 acre park with a lot of green trees covering the garden in a distance of 16 metres all around. It is a very huge green space that exists in Mumbai which is such a big crowded city and lacks space. There is also a playing area for children near to the botanical garden in Mumbai where the children can roll and enjoy Tumble down games.
Features of the Botanical garden
There are lots of facilities in the botanical garden. There are single seats to sit in corners where anybody can go sit and relax inside the garden. The botanical garden is so beautiful that, it looks like a mini forest which is mesmerising. The huge trees are standing horizontally on the grass. It can be like a picnic place for the people who want to come and enjoy the green. There are stone balls where people can walk. There are flower Creepers which are hanging around the garden which really look so elegant and beautiful.
The Botanical Garden has a very calm and mesmerising view which everybody wants to just sit and relax and just get the view of the beautiful nature. All the trees are standing in such a way that they are talking to one another and it really looks elegant to see them silently.. The green covering is really very elegant to look at. The Botanical Garden has a covered roof with the greenhouse and a lot of cacti are there inside the botanical garden which are of different shapes and sizes. The cacti are not that hard and succulent and baby cacti can also be found there which look so elegant.
The Botanical Garden is too big for it to accommodate a lot of people in one go. Though the morning and evening hours are rush hours, still anybody can enjoy the beautification of the botanical garden.
Why is the Botanical Garden so famous?
People love nature and so they want to connect with it. The Botanical Garden provides a very good medium to connect people with nature and Science. There are many education programs which help people to develop general awareness about the environment and so they are able to understand the importance of conserving nature and connect with it.
---