Chausath Khamba is situated in Nizamuddin, New Delhi. It is a tomb which was constructed between 1623 to 1624. The meaning of the name is "64 pillars" which was built by Mirza Aziz Koka also known by the name Khan-i-Azam during the reign of the Mughal Emperor Jahangir.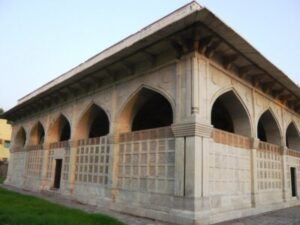 Visiting Detail
Location:

Nizamuddin West, New Delhi – 110013

Type: Tomb
Religion: Islam
Year of construction: 1624
Architecture Style: Mughal architecture
Architect: Koka Khan-i-Azam
Entry fee: Free
Architecture
Earlier, the monument was built as a wide hall of Mughal architectural style. Later it was converted into a tomb. It is completely built of white marble having 64 columns supporting 25 bays. Each bay carries a dome.
The monument has the tomb of Mirza Aziz Koka, tomb of his father Atgah Khan, tomb of Prime Minister of Akbar including many unidentified tombs inside the monument.
Attractions

near Chausath Khamba
Humayun's Tomb: Distance: 1.8km

Isa Khan's Tomb:

Distance: 1.4km

Hazrat Nizamuddin Aulia Dargah:

Distance: 400m

Sunderwala Mahal:

Distance: 1.6km

Phuta Gumbad:

Distance: 1.6km

Sunder Nursery:

Distance: 1.3km

Bu Halima's Tomb:

Distance: 1.4km
Sikandar Lodi Tomb: Distance: 2.9km

India Habitat Centre:

Distance: 2.0km

Bada Gumbad:

Distance: 2.5km

Gol Gumbad:

Distance: 550m