Chhatarpur Mandir (Temple) also known by the original name "Shree Adya Katyayani Shaktipeeth Mandir" is located in south Delhi. This hindu temple is devoted to hindu Goddess, Katyayani. Katyayani is the sixth form of Devi (Parvati) among nine durgas as per hindu worship.
The temple complex has been extended into huge area of 70 acres of land. The temple is situated in Chhatarpur that's the reason it is known as Chhatarpur temple. Chhatarpur is in the southwest suburbs of Delhi which is just 4 km far from Qutub Minar towards Gurgaon-Mehrauli road.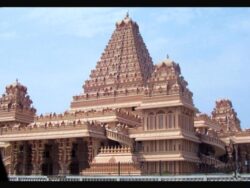 Visiting Detail
Location: Chhatarpur, New Delhi, Delhi 110074
Timings: 6.00 am to 10.00 pm
Type: Hindu Temple
Deity: Katyayani (Durga)
Religion: Hinduism
History
Baba Sant Nagpal ji was the founder of Chhatarpur temple who established this temple in 1974. He died in 1988. His samadhi shrine exists inside the temple complex in Shiv Gauri Nageshwar Mandir.
It is believed that Devi Katyayani (Durga) killed the evil demon Mahishasura and manifested as Katyayani in the place where the temple exists. Indian holy Gods Brahma, Vishnu and Shiva united their force to create the powerful Goddess and equipped her with immense power.
Chhatarpur temple is the second biggest hindu temple in India after Akshardham temple in Delhi (established in 2005). Chhatarpur temple is built of marble and surface of the temple is made of perforated stone or jaali. This style of work is known as vesara (stylistic tradition of hindu temple architecture) architecture.
The temple complex from inside
The temple complex is spread over 60 acres of area. It has some large and around 20 small temples. The temples are again divided into different complexes. The main diety of the temple is goddess katyayani. kaatyayani is a part of navadurga which means the nine forms of Goddess Durga or Shakti which are worshipped by Indians during the Navratri celebrations.
Shrines in the temple
The temple has the shrine of the main Goddess Durga karthiyayini. It opens only during the Navratri season twice a year. Thousands of people visit the temple during the Navratri season in the year. There is one nearby room which is a living room. It has tables and chairs which are made in silver. Another room is there which is known as Shayan Kaksh (bedroom). This room has the bed, a dressing table and a table which are carved in silver. This Shrine is opened during religious occasions like bhajans and large Satsang only. At the entrance to the temple there is an old tree where the Devotees come and tie the holy threads to fulfil their wishes.
There is another shrine of Goddess Durga which is open for devotees from morning to evening. It is located near the Shrine dedicated to Radha Krishna and Lord Ganesha.
The complex also has the temples which are dedicated to Lord Rama, Lord Ganesha and Lord Shiva. These temples are built in both the North and South Indian style of temple architecture.
Attractions

near Chhatarpur Temple