Chhatrapati Shivaji Maharaj Vastu Sangrahalaya
Chhatrapati Shivaji Maharaj Vastu Sangrahalaya was also known as the Prince of Wales Museum. This museum has an impressive collection of art, artifacts, and natural history exhibits that showcase the rich history and culture of Mumbai.
The museum has a collection of 50,000 exhibits, ranging from ancient sculptures and artifacts to contemporary art and textiles. There is a collection of miniature paintings from the Mughal era, rare coins and manuscripts, and a gallery featuring the works of renowned Indian artists such as Raja Ravi Varma and Jamini Roy.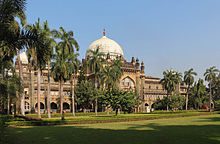 Visiting Detail
Location:

159-161, Mahatma Gandhi Road, Kala Ghoda, Fort, Mumbai, Maharashtra-400023

Timings: 10:00 am to 06:00 pm
Closed On: Open all 7 days
Entry Fee: Chargeable (Rs. 40 onwards)
Type of Attraction: Art Museum
Year of Construction: 1905
Architect: George Wittet
---
Who built Chhatrapati Shivaji Maharaj Vastu Sangrahalaya?
The museum was built in the early 20th century to commemorate the visit of King George V to India. It was the British architect, George Wittet, who designed this museum. He also designed the iconic Gateway of India.
The collections in the museum
The Chhatrapati Shivaji Maharaj Vastu Sangrahalaya has over 50,000 exhibits which are spread across three floors.
The first floor is dedicated to the archaeology and natural history exhibits including prehistoric artifacts, sculptures, coins, and manuscripts.
The second floor of the museum has Indian decorative arts, miniature paintings, and textiles from different regions of India.
The third floor features European paintings, armor, and weaponry, as well as exhibits from different parts of the world, including China, Japan, and Tibet.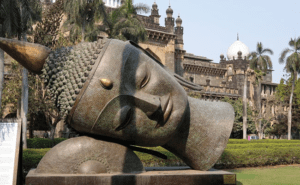 The museum is the collection of over 2,000 miniature paintings, including works by famous artists such as Raja Ravi Varma.
The museum also has a significant collection of Indian sculptures, spanning different periods and regions.
The museum has a collection of textiles including stunning saris, shawls, and other garments that showcase the rich traditions and craftsmanship of India's textile industry.
Special events and programs at the museum
One of the most popular programs is the museum's guided tours, which provide visitors with a deeper understanding of the exhibits and collections. These tours are available in several languages, including English and Hindi, and are conducted by knowledgeable and enthusiastic guides.
The museum also hosts educational programs, which are designed to engage children and young adults. These programs include workshops, art classes, and interactive exhibits, which offer a hands-on learning experience for participants.
The museum also hosts a variety of cultural events and performances throughout the year. These events include music concerts, dance performances, and theater productions, which showcase the rich culture of the city and its people.