Dadar Flower Market
Dadar Flower market in Mumbai is famous for the riot of colourful flowers. This is the favorite destination for the every person who loves flowers.
Dadar flower market is also known as Phool Gali. Generally the market starts around 5:00 am and closes in the evening near around 5 pm. This is the market of colourful flowers. Seeing the colourful flowers, the mind becomes calm.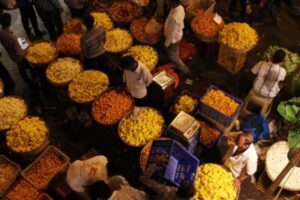 Visiting Detail
Location: Dadar West, Mumbai, Maharashtra
Closed: Open all 7 days
Market Timings: 6.00 am to 8.00 pm
---
How To Reach Dadar Flower Market
To reach Dadar Flower Market, you have to get down at Dadar station. This market is located on the west side of the station under the flyover at Mumbai. It is believed to be the single largest flower market in Mumbai.
Speciality of Dadar Flower market
All kinds of stalls, big and small, will be seen here, in which all kinds of colourful flowers will be found. The specialty of this market is that it smells of flowers everywhere. Not only flowers, there is also a sweet smell of sweets like Gulab Jamun.
The flowers of almost every type can be found in the market like lotus flower, crimson, Lily, marigold, rose flower etc. It seems that the supply of flowers to the surrounding city comes from the Dadar flower market, which also serves as a wholesale market for flowers.
As you enter this market, you will see many vendors with huge baskets of flowers on their foreheads. You will get a big basket of marigold flowers for ₹50 to ₹80. You will get a bunch of rose flowers for ₹ 20 to ₹ 50. Apart from these flowers, you will get other flowers cheaply. Bargaining is also possible here.
Things to keep in mind
This market is located on a narrow street approx. That's why you can see a lot of movement here. Whenever you have to go shopping in this market, see on which day and at what time you should go here so that you do not have to face much crowd here.
---