Dolls Museum Jaipur
The Dolls Museum is housed in the heritage building of Albert Hall Museum in Jaipur. The museum was established in 1974 and has since then become a popular tourist destination in Jaipur.
The Dolls Museum Jaipur is dedicated entirely to dolls having a collection of over 3000 dolls and puppets. The dolls are dressed in traditional costumes from different regions of India, and each one tells a story of its own. From the Rajasthani puppets to the Kashmiri dolls, the museum offers a glimpse into the rich cultural heritage of India.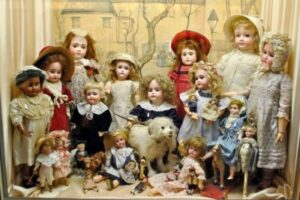 Visiting Detail
Location: Trimurti Circle, JLN Marg, Adarsh Nagar, Jaipur, Rajasthan – 302004, India
Closed on: Tuesday
Timings: 9:00 am to 4:00 pm
Entry Fee: Foreigners – Rs. 150-300 per person | Indians: Rs. 10-40 per person
Best time to visit: October to March
---
The history of the museum
The museum was the brainchild of the late Shri NK Sharma, who was the then Additional Director of the Department of Art and Culture in Rajasthan. He envisioned a space where dolls from different regions and cultures could be displayed together, showcasing the rich heritage and diversity of India.
Highlights of Dolls Museum Jaipur
The collection includes over 1,000 dolls from countries like Japan, Mexico, Spain, Russia, and India. The dolls are dressed in colorful costumes, representing various ethnic groups, festivals, and ceremonies.
The dolls are made from a variety of materials such as wood, clay, cloth, and porcelain.
Dolls are dressed in bridal wear, traditional festival attire, and even dolls representing different professions from doctors and soldiers to farmers and musicians.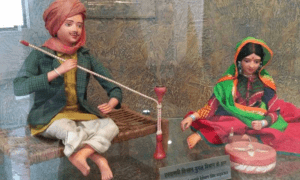 The museum also houses a special section dedicated to dolls from Rajasthan, showcasing the traditional clothing and jewelry worn by women in the region.
One of the highlights of the Jaipur Dolls Museum is the beauty of the handmade dolls. Each doll is crafted with incredible attention to detail and a deep understanding of local customs and traditions.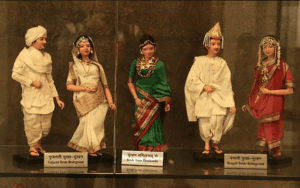 One can see dolls representing the Rajput warriors of Rajasthan, the Kathakali dancers of Kerala, the Bengali brides, the Punjabi farmers, the Marathi women wearing nauvari sarees, and many more such fascinating characters.
The role of the museum in preserving cultural heritage
Museums play a crucial role in preserving cultural heritage. They act as a bridge between the past, present, and future generations. The museum is not just a place to display and admire these dolls but it also acts as a research center for students, scholars, and anthropologists who are interested in the study of cultural heritage.