Dr. Bhau Daji Lad Museum
Dr. Bhau Daji Lad Museum is located in vicinity of Byculla Zoo, Byculla East, Mumbai. It is the oldest museum in Mumbai. It was inaugurated in 1855. Originally its name was treasure house of the decorative and industrial arts which was renamed in honour of Dr. Bhau Daji Lad later. This museum has an amazing collection of art, textiles, and objects which tell the story of Mumbai's rich cultural.
In the early 2000s, the museum underwent a major renovation and restoration program to revive its earlier glory. Today, Dr. Bhau Daji Lad Museum is not only a museum but also a cultural center which hosts various events, exhibitions, and programs throughout the year.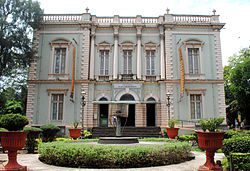 Visiting Detail
Location:

91 A, Rani Baug, Veermata Jijabai Bhonsle Udyan, Dr Babasaheb Ambedkar Rd, Byculla East, Mumbai, Maharashtra 400027

Timings: 10:00 am to 06:00 pm
Closed On: Wednesday
Entry Fee: Chargeable (Rs. 10 onwards)
Type of Attraction: Art Museum
Year of Construction: 1872
Built by: Dr. Bhau Daji Lad and Dr. George Birdwood
Website: http://www.bdlmuseum.org/
---
Major attractions at the museum
One of its major attractions of the museum is the collection of over 7,000 decorative arts which includes ivory carvings, lacquer ware, and textiles from across India.
The museum has a collection of 19th-century Indian paintings that showcase the diverse styles and techniques of artists from different regions of India like Rajasthani style etc.
Visitors can see maps, photographs, and other historical artifacts that tell the story of Mumbai's growth and development over the centuries.
The museum has hosted several exhibitions of modern and contemporary art, including works by the likes of M.F. Husain, S.H. Raza, and Tyeb Mehta.
The museum also has a section of the history of Indian cinema. Visitors can learn about the early days of Indian cinema and see exhibits on the work of legendary filmmakers such as Satyajit Ray and Guru Dutt.
The renovation work done on the museum
The museum was in a state of disrepair for many years until an extensive renovation project was undertaken. It took nearly six years to complete.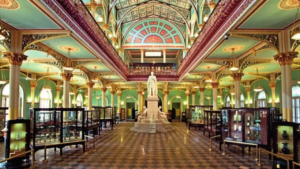 The restoration work included the cleaning and restoration of the museum's beautiful Victorian-era interiors, including the stucco work, flooring, and painted walls.
The museum's exterior was also renovated, with the original iron gates restored to their earlier form. The iconic clock tower was fully restored to its original design.
Modern amenities, including climate control systems and a new audio guide system were added to enhance the visitor experience.
Future plans for museum expansion
The Dr. Bhau Daji Lad Museum has plans to expand the facility to accommodate more exhibitions, events, and visitors.
The expansion project also includes a new wing to house temporary exhibition galleries, a conservation laboratory, a research center, and a café.
The museum's outdoor spaces will be transformed into vibrant public areas to host cultural events, performances, and educational activities.
Educational programs for children and adults
For children, the museum provides workshops on painting and drawing, storytelling sessions, and even puppet shows.
For adults, the museum offers a range of lectures, talks, and workshops on various topics related to art and culture. These programs are led by experts in their respective fields and cover a wide range of topics such as art history, conservation, and restoration.
How to reach the museum
The Dr. Bhau Daji Lad Museum is located in Byculla, Mumbai, and is easily accessible by public transport. The nearest railway station is Byculla, and the museum is just a 10-minute walk from there. You can also take a bus or taxi to reach the museum.