The meaning of Gulbadan Begum in Persian language is 'body like a rose flower'. Gulbadan Begum, born as a Mughal princess was and the daughter of the founder of the Mughal Empire Babur.
She is mostly known for her book on biography of Humayun, Humayun-Nama who was her half-brother and the great Emperor. It is said that she wrote Humayun-Nama on the Emperor and her nephew Akbar's request. She has mentioned some of the rare information regarding the conflicts between her half brother Humayun and Kamran Mirza.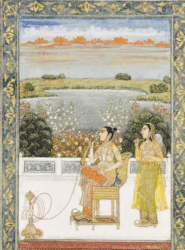 Quick Facts
Full Name: Gulbadan Begum
Born: 1523
Died: 7th February 1603
Religion: Islam
Dynasty: Timurid
Spouse: Khizr Khan
Father: Babur
Mother: Dildar Begum
Famous as: Shahzadi of the Mughal Empire
Life of Gulbadan Begum
Gulbadan Begum was just eight years old when her father died in 1530. After that her half-brother Humayun took the responsibility of her upbringing. She was married to her cousin, Khizr Khwaja Khan who was a Chagatai noble and the son of Aiman Khwajah Sultan. Gulbadan was seventeen years old during her marriage.
Gulbadan had spent her life mostly in Kabul. But in 1557, on the request of her nephew Akbar, she decided to move to Agra and joined him. She earned a lot of respect in the regal household and everybody was greatly influenced by her decisions. Both Akbar and his mother Hamida Banu Begum liked her a lot.
Gulbadan Begum also undertook a religious journey along with many royal ladies to Mecca. She returned to India after seven years in 1582. She died in 1603.