Haji Ali Dargah
Haji Ali Dargah is a mosque and dargah situated on an island off the coast of Worli and is one of the most visited tourist attractions in Mumbai. It is very beautiful example of Indo-Islamic Architecture which includes the tomb of Haji Ali Shah Bukhari who was a Sufi saint and a wealthy merchant came from Uzbekistan. This dargah is one of the most recognisable landmarks of Mumbai.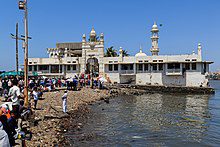 Visiting Detail
Location: Islet coast of Worli, Maharashtra
Timings: 5:30 am to 9:45 pm
Closed: Open all 7 days
Type: Mosque and Sufi mausoleum
Style: Modern
Affiliation: Sunni Islam
Construction Completed: 1431
---
Why Haji Ali Dargah built?
According to the legend, Haji Ali Shah Bukhari was a wealthy merchant who gave up all his worldly possessions and went on a pilgrimage to Mecca. On his way back, he fell ill and passed away, and his casket floated back to Mumbai. It is said that the dargah was built on the spot where the casket finally came to rest.
Structure of Haji Ali Dargah
The architecture of Haji Ali Dargah is also quite impressive and is made of white marble structure, built on a rocky outcrop in the sea. It is connected to the mainland by a narrow causeway. The interiors of the dargah are decorated with carvings and beautiful glasswork. The main hall has the tomb of Haji Ali Shah Bukhari, and it is surrounded by a courtyard where visitors can sit and reflect.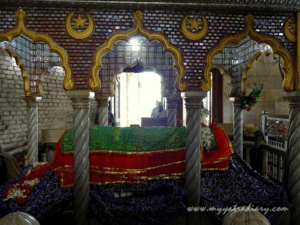 The tomb is covered in a green and gold cloth surrounded by a silver railing. The Dargah also has a beautiful courtyard and a small pond.
The spiritual significance of Haji Ali Dargah for Muslims
Haji Ali Dargah has a great spiritual significance for Muslims.
It is believed that the saint is responsible for many miraculous healings and blessings.
It is believed that visiting the Dargah and offering prayers can bring them closer to Allah and help them seek blessings.
The Dargah has a mosque where prayers are held five times a day, and also has a mausoleum where the tomb of the saint is located.