Hauz i Shamsi water reservoir is also known as Shamsi Talab which means 'Sunny Water Tank'. It is a water storage reservoir built by Shams Ud-din Iltutmish in 1230 CE in Mehrauli who was the third Mamluk king. He was directed by an islamic forcaster Muhammad to build the reservoir in the location where it is built.
Jahaz Mahal is built on the eastern edge of the same reservoir during Lodi dynasty period. Jahaz Mahal was built as a retreat or inn for the pilgrims in 16th century.
There is a tomb of Abdul-Haqq Dehlavi who was a 17th-century Persian writer.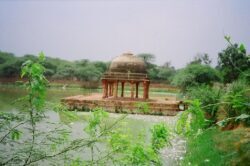 Visiting Detail
Location:

Aam Bagh, Khandsa Colony, Mehrauli, New Delhi – 110030

Type: Reservoir
Built By: Iltutmish

Construction:

1230 CE
History
A famous mythological narrator had explained the dream of Iltutmish behind the construction of Hauz-i-Shamsi in which Muhammad had directed him to built the reservoir in the directed location.
After the dream when Iltutmish visited the site, he found the hoof print of Muhammad's horse there. Then he decided to built the water tank there. At first he constructed a pavillion and marked the sacred location. Then he digged out a large tank or reservoir throughout the pavillion to collect the rainwater.
The present stone available in the reservoir is the renewed one whereas the original stone with hoof print has been removed. The water of the tank is believed to be sacred. There are graves of many muslim saints lie around the reservoir.
It is believed that Muhammad not only came into the dream of Iltutmish but he also directed Khwaja Qutbuddin Bakhtiar Kaki who was a Muslim sufi saint to built the same reservoir in the same location.
Attractions near Hauz-I-Shamsi