Horniman Circle Gardens is mostly famous for rejuvenation activities. It has well-maintained jogging tracks, pavements, lawns with lot of trees.
Horniman circle Gardens is located in South Mumbai which is spread over two and a half acres of land in Mumbai which is surrounded by many office complexes and Banks. This area is also known as the Bombay green. In the 18th century after independence in 1947 the area was renamed in the honour of Benjamin Horniman, who was the editor of Bombay chronicle newspaper. He had a great support in Indian Independence.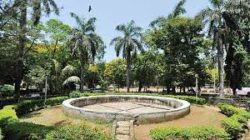 Visiting Detail
Location: Kala Ghoda, Fort, Mumbai, Maharashtra
Closed: Open all 7 days
Timings: 10:00 am to 7:30 pm
Entry fee: Free
History
The construction of this area started in 1821 which took around 12 years to complete. In 1842 this area was just a dump of coconut shells and the waste materials. Charles Forjett, Who was the police commissioner Commissioner at that time took initiative to convert this dirty area into a famous Horniman circle Gardens surrounded by big buildings. Lord Elphinstone, who was the Governor at that time also supported him in this work. Then in 1869 the plan was initiated to complete the garden and it was completed in 1872 with walkways and a lot of trees were planted around. Later on, an ornamental fountain was established in the centre of the garden. After some time a modern art deco iron pipe design was replaced there.
Initially, this Park was famous among the Parsi community as it was their favourite location for social gathering. Then during the initial days before the independence of India where was a band that used to perform every evening.
Asiatic Society of Mumbai takes care of the maintenance of horniman circle Garden and the Reserve Bank of India.
Activities and events
Lot of annual activity takes place at horniman circle Garden for example an annual Sufi and musical festival like Rohaniyat take place in the garden.
Kala Ghoda art festival is one of the famous events which used to happen at this place every year.
Many famous musicians take part in the musical events that take place in this area.
Dance concerts also take place in the park.
Nearest transport options
Chhatrapati Shivaji Terminus railway station is the nearest railway station to this Garden. The airport, Chhatrapati Shivaji Maharaj International Airport is located around 26 km away from the Horniman circle Garden. Mumbai Central Bus Stand is around 6 km far from the Horniman Circle Garden.
---