Full form of ISKCON is "International Society for Krishna Consciousness" known as the Hare Krishna movement. Swami Bhaktivedanta Prabhupada started this movement in the year 1966 in New York city. It is based on the Hindu manuscripts mainly on Bhagavad Gita and Bhagavad purana.
The purpose of the organization was to practise the God love. In India, its followers increased most rapidly in 2007 specially after Soviet Union collapsed in Russia, Ukraine and Eastern Europe and Central Asia. Today, its members are more than a million worldwide.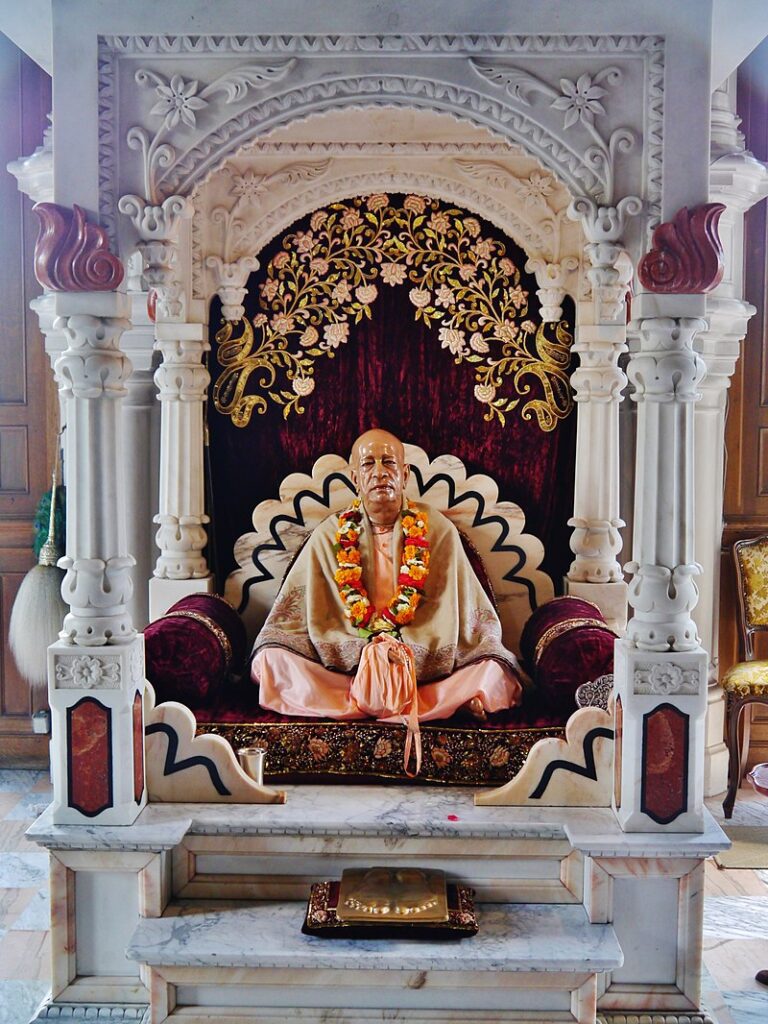 History
ISKCON followers follow Gaudiya Vaishnavism which means "Worship of Vishnu" which was originated from Gauda, a territory located in Bengal. Gaudiya Vaishnavism had followers mostly from bengal and Odisha in India.
The Saint Chaitanya Mahaprabhu had founded Gaudiya Vaishnavism which rapidly increased its followers throughout Bengal. He stressed on the Krishna Maha Mantra "Hare Krishna" and established Sankirtan which means practise of expressing devotion for Lord Krishna publically.
Swami Prabhupada brought Gaudiya Vaishnavism in New York in 1965 when he has no money. Initially he started chanting in public parks which attracted the youth. With time, the Maha mantra "Hare Krishna" grew rapidly. It gained high popularity and financial backing when it spread to England. He then recorded many tracks with the Maha mantra "Hare Krishna" in popular track "My Sweet Lord". Swami Prabhupada established the first Hare Krishna Commune in 1968 in Virginia. After that more than 600 centres of ISKCON have been established all over the world.
ISKCON centres worldwide
India
Sri Sri Krishna Balaram Mandir in Vrindavan
Sri Mayapur Chandrodaya Mandir in West Bengal
Vrindavan Chandrodaya Mandir in Bangalore
Europe
Bhaktivedanta Manor in watford
Radhadesh in Belgium
FAQs
Who is Srila Prabhupada?
Srila Prabhupada is the founder of ISKCON. He left India at the age of 69 to teach Bhakti Yoga. His guru was Srila Bhaktisiddhanta Sarasvati Thakura.
Which religion is ISKCON?
ISKCON is hindu which belongs to the Gaudiya Vaishnava sampradaya.
Who is Lord Krishna?
Lord Krishna is the Supreme God in Hinduism.
When and where was ISKCON established?
ISKCON was established in July 1966 in New York city.
Who can join ISKCON?
Anybody as a devotee can join ISKCON.
Can I become the member of ISKCON?
Click Here to contact the local branch of ISKCON.
What are the four principle or rules of ISKCON?
The four principles of ISKCON are based on 4 pillars of dharma and these are austerity, cleanliness, truthfulness and compassion.
What is ISKCON famous for?
ISKCON is famous for its Bhagavad Gita Animatronics.
Which is the biggest ISKCON?
Temple of the Vedic Planetarium, Mayapur is the biggest ISKCON.
What type of religion is ISKCON?
ISKCON is a Gaudiya Vaishnava religious organization.
Can Hare Krishnas marry?
Hare Krishnas devote has their own choice to get married or never marry. Generally, they spend their whole life in the devotion of lives in the temple and never marry.
How ISKCON is different from Hinduism?
ISKCON follows the Hare Krishna movement which is a Vedic system, started by Krishna Chaitanya Mahaprabhu. They never mention Hindu or Hinduism in their vedic system.