Jahaz Mahal – pleasure resort is located near to Hauz-i-Shamsi, a water reservoir built by Iltutmish in 1230 CE in Mehrauli, Delhi. 'Jahaz' means ship and 'Mahal' means Palace in Urdu. Thus Jahaz Mahal means 'Ship Palace'. It's reflection in the surrounding water reservoir looks like a ship is floating in a lake. That's the reason it got the name of Jahaz Mahal.
It was constructed during the ruling period of Lodi dynasty between 1452 to 1526. It was constructed as the amusement inn or sarai or a pleasure resort which means roadside inn for travellers to take rest.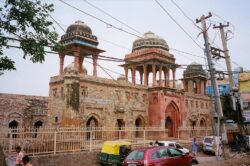 Visiting Detail
Location: Mehrauli Market, New Delhi – 110030
Timings: 10:00 am to 07:00 pm
Type: Inn
Architecture: Mughal Style
Built By: Lodi Dynasty
Construction: 1452-1526
History
Jahaz Mahal was constructed to provide shelter as sarai or inn to lot of devotees who traveled from Islamic countries like Afghanistan, Iran, Iraq, Arabia, Turkey and Morocco to Delhi to visit Muslim shrines. During the summers Jahaz Mahal was used as the retreat for Akbar Shah II and Bahadur Shah II along with their families.
Its construction was started in 1451 AD before Babur conquered Delhi and completed in 1526 AD.
There is a rectangular shaped yard in the center of the palace which now looks 'U' shaped. The palace has carved square chhatris standing on the pillars. These chhatris are beautiful ornamented with squinches. There is a domed pavilion over the central gate which is decorated with blue tiles. There is also a small mosque inside the palace.
Attractions

near Jahaz Mahal