Masjid-i Jahan Numa is the actual name of Jama Masjid Delhi which means "World-reflecting Mosque". Being one of the largest mosques in India, Jama Masjid was established by the Mughal Emperor Shah Jahan from 1650 to 1656. During that era the cost of building the mosque was one million rupees. Jama Masjid was first started by Islamic leader Syed Abdul Ghafoor Shah Bukhari from Bukhara (nowadays Uzbekistan).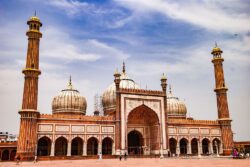 Visiting Detail
Location: Jama Masjid Road,

Chandni Chowk

, New Delhi, Delhi 110006
Actual name of Jama Masjid: Masjid-i Jahan Numa
Timings: 7:00 am to 12:00 pm & 1:30 pm to 6:30 pm
Type: Mosque
Religion: Sunni Islam
Overview
The mosque had 3 gates and 2 high minarets (40 meter each) erected with strips of white marble and red sandstone when it was first completed in 1656 AD. The courtyard had the capacity of accommodating more than 25000 people. The mosque has 3 domes on the balcony enclosed by 2 minarets. A total of 899 black borders are there on the floor for devotees.
Badshahi Masjid, built by Shah Jahan's son Aurangzeb which is now present in Lahore, Pakistan is similar to the architecture of Jama Masjid. Jama Masjid is also known as the "National Mosque of India".
History
The Mughal Emperor Shah Jahan built Jama Masjid from 1650 to 1656. It's construction involved around 5000 workers in the construction. Saadullah Khan, wazir (prime minister during Shah Jahan's reign) was the supervisor during the construction of the mosque. Shah Jahan had also built Taj Mahal, Red Fort and then built Jama Masjid.
The mosque has the word "Jama" meaning friday. After the Indian Rebellion of 1857, the british had seized the mosque and used them to position their soldiers. They also wanted to destroy the mosque in order to punish the Indian city. But they didn't do this because of the criticism.
Jama Masjid was one of the last iconic monuments built under Shah Jahan. The last Nizam of Hyderabad (Asaf Jah VII) donated 3 lakh rupees to restore the mosque. Though he was asked only for 75000 rupees to restore one-fourth of the mosque.