Jantar Mantar Jaipur
Jantar Mantar was built by Rajput king Sawai Jai Singh II, who is also called its founder, Jantar Mantar is a collection of about 19 astronomical instruments. It was completed in 1734. It is the largest stone sundial in the world and is part of a UNESCO World Heritage Site. It is located near Hawa Mahal and City Palace.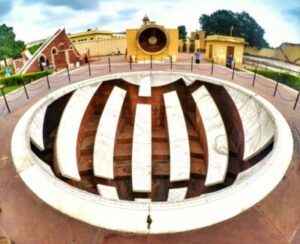 Salient Features of Jantar Mantar Jaipur
This monument has many instruments with the help of which we can see the astronomical position with our naked eyes. It consists of three main classical celestial coordinate systems. The first is horizon-zenith local System, the second Equatorial System and the third is ecliptic system. This Monument was almost ruined in the 19th century.
After this it was restored, and was rebuilt under the supervision of Arthur Garrett.
Name
The name Jantar is derived from a Sanskrit word which means machine or instrument and mantra is also derived from a Sanskrit word which means to calculate. Similarly the name Jantar Mantar means calculating instrument.
Purpose
There was a big reason behind making Jantar Mantar. Raja Jaisingh noticed that the object used to observe the celestial objective position was not accurate, namely the jizz.
Then he made 5 five new observatories in different cities to create a more accurate jiz.
Jantar Mantar
This observatory has 19 instruments which are used to measure time.
They are used to predict eclipses and are used to track the location of stars.This instrument is very big, it is said that the bigger it is, the more it tells the thing more accurately.
Materials used in construction
Local stones and marble have been used to make Jantar Mantar, with each instrument having an astronomical scale in the inner lining of the marble.
It has been restored many times since British rule from 1902. It has been declared a National monument since 2006. After that, it has been restored.
It is said that the Samrat Yantra, which is Giant Sundial, tells the local time of Jaipur very accurately in even seconds.It is one of the largest sandals in the world, its length is about 27 metres.
Jantar Mantar comes under Jaipur archaeological Sites since 1961 and it comes under National Monument of Rajasthan since 1968.
---