Kanheri Caves Mumbai
The Kanheri Caves Mumbai are rock-cut monuments which are a group of caves located in the forests of the Sanjay Gandhi National Park in the western outskirts of Mumbai, India. These caves were used by Buddhist monks as a place of meditation and worship. The Kanheri Caves are not just a historical site, but also a popular destination for trekkers and nature enthusiasts.
The Kanheri Caves are believed to have been constructed between the 1st century BC and the 10th century AD. The name Kanheri is derived from the Sanskrit word Krishnagiri, which means black mountain.
Construction of Kanheri Caves
The Kanheri Caves are made up of over 100 individual caves, which are spread out across a series of hills. Each cave is unique depicting various aspects of Buddhist mythology and history. The most striking feature of these caves is the Chaitya hall, which is a large, vaulted chamber with a stupa at one end. The hall is decorated with beautiful sculptures and is considered to be one of the finest examples of ancient Indian architecture.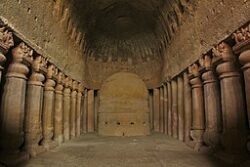 Visiting Detail
Location: Sanjay Gandhi National Park, Mumbai, Maharashtra 400101
Timings: 7:30 am to 5:00 pm
Closed: Monday
Entry fee: Chargeable
Type: Rock cut caves
Architecture: Ancient Indian style architecture
Year of Construction: 10th century CE
---
The significance of the Kanheri Caves to Mumbai's history
The Kanheri Caves played a major center of Buddhist learning and meditation for over a thousand years. The caves were home to a large number of Buddhist monks who lived and studied here.
The caves also depict the life of Buddha and his teachings.
Unique features of Kanheri Caves
The Kanheri Caves consist of large halls, with beautifully carved pillars, and beautiful sculptures that depict the life of Buddha and various deities.
One of the unique features of the caves is the presence of natural ventilation systems that were built to ensure proper air circulation. The caves were designed in such a way that they remain cool even during the hottest months of the year.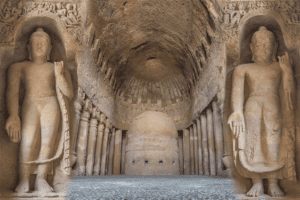 The Kanheri Caves have a large number of water tanks and reservoirs. These water tanks were used to store water during the rainy season, which was then used for irrigation purposes during the dry months.
The decline of Kanheri Caves and its rediscovery
The Kanheri Caves were abandoned by the 11th century. During the period of British rule in India, the caves were rediscovered by British explorers in the early 19th century. The British began to clear the vegetation around the caves. The caves were later declared a protected monument under the Ancient Monuments Preservation Act of 1904.
In recent years, the Archaeological Survey of India has undertaken extensive restoration work to preserve the caves and protect them from further damage.