The monumental structure of Khas Mahal is located in the Red Fort, Delhi which is the huge defending monumental complex in the city governed by the Indian government. It is believed the Khas Mahal was used as the private residence of the Mughal Emperor in Delhi.
Khas Mahal in Delhi was built by Emperor Shah Jahan. He built this Mahal for his daughters Roshanara and jahanara. It was known as a private Palace for his daughter's. The construction of Khas Mahal was initiated in 1631 and it took around 9 years to complete (1640).
Visiting Detail
Location: Netaji Subhash Marg, Lal Qila, Chandni Chowk, New Delhi – 110006
Timings: 9:00 am to 5:00 pm
Closed: Open all 7 days
Entry fee: Free
Architecture: Islamic Mughal architecture
Year of Construction: 1640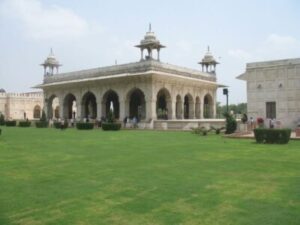 Khas Mahal has three main parts:
The Chamber of Telling Beads also known as Viz-tasbih-khana.
The sleeping chamber known as khwabgah.
The wardrobe also known as tosha-khana or sitting room known as baithak.
Inside the Khas Mahal
Khas Mahal is included in the entrance of the Red Fort. Now the building is not in a good state because of its poor maintenance. This is a world heritage heritage site. The complete white marble building looks so Elegant.
The interior of Khas Mahal is beautifully decorated with white marble which are are carved and painted with floral decorations. The ceiling of Khas Mahal is partially covered with marble. and it is carved with the scale of justice (mizan I adal) Which is an important item of Mughal Art. It is a depiction of justice.
The protruding Tower to the east of Khas Mahal is called Muthamman Burj (octagonal tower). This Tower was used by the emperor every morning to address the assembly in a ceremony called jharokha Darshan.
Attractions

near Khas Mahal