Knesset Eliyahoo synagogue
The Knesset Eliyahoo, also Knesset Eliyahu, is an Orthodox Jewish synagogue located in downtown Mumbai, India and is the second oldest Sephardic synagogue in Mumbai city.
Jacob Elias Sassoon established this building in 1884 who was the son of Eliyahoo David Sassoon and grandson of David Sassoon. It is maintained by the Jacob Sassoon Trust. The building's importance is attributed to the Jewish, Indian and English colonial traditions. The exterior facade of the synagogue is painted in turquoise color.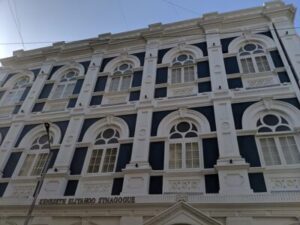 Visiting Detail
Location: Kala Ghoda, Mumbai, Maharashtra
Timings: Mon: 9:00 am to 5:00 pm | Other days: 10:30 am to 5:30 pm
Closed: Friday and Saturday
Rite:

Sephardic

Organizational Status: Active
Affiliation: Orthodox Judaism
Architects: Gostling & Morris
Construction Completed:

1884
---
The construction of Knesset Eliyahoo in 1884
The construction of the synagogue was completed in 1885 which was built in the Victorian neo-gothic style. The architecture of the synagogue is a beautiful blend of Indian and European styles. The Knesset Eliyahoo synagogue has gone through several renovations over the years, but the original structure has been preserved. The synagogue has been an important part of the Jewish community in Mumbai for more than a century and remains a popular tourist attraction for people.
Architecture of Knesset Eliyahoo
The exterior of the synagogue is made of locally sourced yellow basalt stone with beautiful decorations.
It has a large stained-glass window that depicts the Ten Commandments in Hebrew. The window is a stunning sight and looks impressive when the sunlight streams through it.
The main prayer hall is spacious with high ceilings and beautiful woodwork.
The significance of Knesset Eliyahoo for the Jewish community in Mumbai
The Knesset Eliyahoo synagogue has remained an important institution for the Jewish community in Mumbai, and still attracts visitors from all over the world who come to learn about the history and culture of the Jewish community in India.
The synagogue is also significant as it was built during the British Raj, and reflects the unique blend of Indian and British architecture that characterizes many of Mumbai's historic buildings.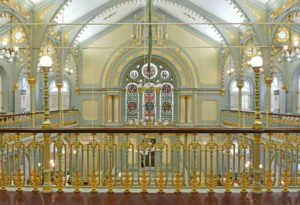 The synagogue has been a center for various cultural activities, including hosting art exhibitions, film screenings, and lectures on Jewish history and culture.
The synagogue has also welcomed visitors from different faiths, promoting tolerance and harmony. .
The religious practices and events held at Knesset Eliyahoo
Knesset Eliyahoo is a home to a vibrant and active place to practice traditional Jewish customs and rituals. Visitors are welcome to attend religious services and events, which are held throughout the year.
One of the most important religious practices occurs at Knesset Eliyahoo is the weekly Sabbath service. This service takes place on Friday evenings and Saturday mornings, and it is a time for the community to come together in prayer and celebration.