Lalbaug market Mumbai
Lalbaug spice market in Mumbai is one of the capital's most densely populated and a mill area. The lane of the spice market can be identified by plump sacks of red chillies lined up in rows. The displays extend onto the street itself spreading more chillies out on gunny bags to dry in the sun. The market is spread over a large area and is home to a variety of spices such as cumin, coriander, turmeric, red chili, cardamom, and many more.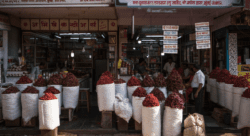 Visiting Detail
Location: Lalbaug, Mumbai, Maharashtra
Closed: Open all 7 days
Market Timings: 10.15 am to 9.00 pm
---
History
It is one of the oldest and largest spice markets in Mumbai, dates back to the British era when it was founded in the 19th century.
The market is named after Lalbaug, which means "The red garden" in Hindi. It was named after the beautiful garden located in the vicinity of the market.
Different types of spices at the market
Lalbaug Spice Market is the perfect place for whole spices. The market offers an array of whole spices such as cardamom pods, cloves, cinnamon sticks, and bay leaves etc. If you prefer powdered spices, Lalbaug Spice Market has also many shops for this. The market offers a selection of powdered spices such as turmeric, coriander, red chili powder, and garam masala.