Nahargarh Fort stands on the top of the Aravalli Hills like it is admiring the entire Jaipur city from a distance. The initial name of the fort was Sudarshan Garh. Later it came to be known as Nahargarh which means "Abode of Tigers". At once Nahargarh together with Amer and Jaigarh Fort built a strong defence ring for the Jaipur city. There is a story behind it. It is believed that the name Nahar is named after Nahar Singh Bhomia.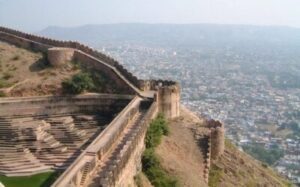 Soul of Nahar Singh Bhomia
It is believed that the soul of Nahar Singh Bhomia roams in the palace, that is why people are afraid to go to this palace. And that is why this name became popular and is known as Nahargarh Fort.
Construction of Nahargarh fort
Nahargarh Fort was built in 1734 by Maharaja Sawai Jai Singh. Sawai Jai Singh was the Raja of Jaipur. Strong walls have been erected around the fort.
Nahargarh Fort is surrounded by strong walls, these walls reach Jaigarh Fort which is above the old capital Amber. It is said that there has never been any attack on this fort.
The fort was further extended in 1886 when Sawai Ram was under the rule. After that many more palaces were built from 1886 to 1892 which cost more than 3:30 lakhs.
One of them is the palace Madhavendra Bhawan which was built by Sawai Madhav Singh. He built this palace for the queens and kings of Jaipur. Later the rooms of this palace were connected by corridors. That is why it is said that there is also a scary residence of many Maharajas in Nahargarh fort. Until 1944, Jaipur was used for state government work such as solar time, and Jantar Mantar Observatory is one of them.
visiting charges
Ticket for visiting Nahargarh fort is rupees 50 for Indians and it is rupees 200 for the foreign tourist. There are minimal charges for the students। for foreign tourist students it is around 50 rupees and for Indian students it is around 25 rupees
Timings
Nahargarh Fort opens at around 10:00 am and its gates close at 5:30 in the evening. After this, visitors are not allowed here. Anyway this fort is surrounded by very dense forests where it is not considered safe to go. This forest is considered to be part of Nahargarh Biological Park where it is believed that wild animals are also found.
---