Nehru Park is named after the first prime minister of India, Jawaharlal Nehru which is located in Chanakyapuri, Diplomatic Enclave, New Delhi. It was inaugurated in 1969 By pandit Nehru Ji but very few people know the fact that it was initially started by Lal Bahadur Shastri in 1965.This park is one of the most beautiful places to hang out during winters.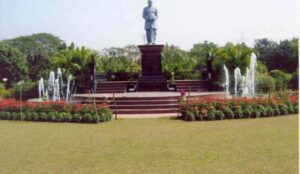 Visiting Detail
Location: Ashoka Hotel, Chanakyapuri diplomatic area, New Delhi – 110023
Timings: 24 hours
Entry fee: Free
Activities at the park
This place is known for the morning Ragas and evening Ragas concerts in Delhi. A lot of music and art exhibitions used to take place in this Park. It is one of the most famous and visited green areas in Delhi. Music concerts and Bharti festivals take place in this Park. This is one of the favourite spots for morning yoga classes and many music concert events. The park also houses an ancient Shiva temple and a cafe.
Features of the park
Big statue of Vladimir Lenin, who was the leader of the great October socialist revolution of Russia has been planted in the park. It is made of alloy metal. This statue was installed during the 70th anniversary of the October revolution on 1st November 1987. Nicolai Ryzhkov, Rajiv Gandhi was the Indian Prime Minister during that time and his wife Sonia Gandhi uncovered the park. After that every year on 22nd April members of Communist Party of India and other left oriented political parties visit this place on the birth anniversary of Lenin.
Best time to visit the park
Though Anytime the park can be visited, it is advisable to visit early morning hours and late easily during this time together. It is very cool in the area and the greenery looks very pleasing.
Closest metro station
Chanakyapuri metro station is the nearest Metro Station to the Nehru Park.
Attractions near

Nehru Park, Delhi