Nehru Science Centre
Nehru Science Centre (NSC) is located in Worli, Mumbai which is the largest interactive science centre in the country. The science centre is named after Jawaharlal nehru, India's first Prime Minister. The center is designed to promote scientific awareness and encourage visitors to learn about science in a fun and interactive way. The center features a range of exhibits, activities, and demonstrations that cover many scientific topics, from physics and chemistry to astronomy and biology. The exhibits are designed to be interactive and encouraged visitors to touch, feel, and experiment with the displays.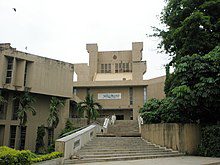 Visiting Detail
Location: W

orli, Mumbai, Maharashtra-400018

Timings: 09:30 am to 08:00 pm
Closed On: Open all 7 days
Entry Fee: Chargeable (Rs. 60 onwards)
Type of Attraction: Science centre, Education centre
Year of Construction: 1985
Architect: Achyut Purushottam Kanvinde
Building Type: Educational
Website: nehrusciencecentre.gov.in
---
The importance of the science centre in education
The Nehru Science Centre in Mumbai are designed to inspire curiosity and encourage visitors to explore the world around them. They help people understand complex scientific concepts in a fun and interactive way.
Science centres also serve as a platform for scientific research and development.
The centre also hosts lectures, workshops, and other educational events that help visitors to learn about cutting-edge research and technologies.
Various sections of the Science Centre
The "Pre-historic Animal Park" is a section that takes visitors on a journey through the evolution of life on earth. It has life-sized models of various dinosaurs and other prehistoric creatures.
Another section is the "Exploration in Space" exhibit. It has interactive models of various space crafts and equipment used in space exploration, along with a dome-shaped theatre to take a virtual journey through the universe.
The "Science for Children" section is a must-visit for families with young children. This section has many interactive exhibits designed to make science education fun and engaging for children.
Other sections of the Centre include "Sound and Hearing," "Energy," "Electricity and Magnetism," and "Fun Science."
The Nehru Science Centre has a 3D show which provides a great experience to the visitors on a journey through space, the human body, and other topics.
Another popular attraction is the Science Odyssey, an interactive exhibition that allows visitors to explore the world of science through hands-on activities and experiments.
For those interested in astronomy and space, the Sky Observation Program is a must-attend event with which visitors can gaze through telescopes and observe the night sky.
The impact of Nehru Science Centre on science education
The Nehru Science Centre in Mumbai has played a pivotal role in science education in the country. Through its exhibits and workshops, it has made complex scientific concepts and theories easy to understand, even for those without a scientific background.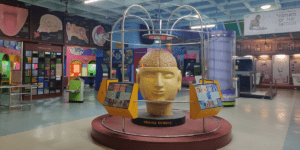 The centre has also been helpful in promoting science education among children and young adults through various programmes and activities.
By showcasing the latest scientific advancements and technologies, the centre has encouraged the centre to inspire young scientists and researchers to pursue various researches in the scientific community.
Future plans for the Science Centre
The Centre has many exciting plans for the future for both visitors and researchers.
One of the major future plans of the Science Centre is to introduce new exhibits that will showcase the latest scientific advancements and technologies.
Another plan is to enhance the existing learning resources and programs. For this, the Centre will be introducing new workshops, seminars, and training programs for all age groups and educational backgrounds.
The Centre has plans to collaborate with other scientific institutions and organizations to create new research opportunities and exchange ideas.