Nur un nissa Begum was the 17th and last wife of Emperor Jahangir and she was the chief wife of the emperor. Nur un Nissa Begum, born in a Timurid empire in c. 1570 was the daughter of Ibrahim Husain Mirza. Her name means 'Light among Women'. She was a wife of the fourth Mughal Emperor Jahangir and the Empress Consort of the Mughal Empire.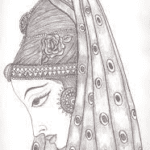 His father was the descendant of Prince Umar Shaikh Mirza and second son of Amir Timur. Her mother, Gulrukh Begum was the daughter of Kamran Mirza who was the son of the founder of the Mughal Empire, Babur. Her brother Prince Muzaffar Husain Mirza was married to Khanum Sultan Begum who was the eldest daughter of Akbar.
Nur un Nissa Begum owned 'Diwan-i-Kamran' which is the collection of poems written by Kamran Mirza, her grandfather.
Quick Facts
Full Name: Nur un Nissa Begum
Born: c. 1570
Died: Not known
Religion: Islam
Dynasty: Timurid
Spouse:

Jahangir

Father: Ibrahim Husain Mirza
Mother: Gulrukh Begum
Famous as: Wife of Jahangir | Empress Consort of the Mughal Empire
Marriage
She married Prince Mohammad Azam on 30th December 1659 after he returned from Deccan to Delhi with Wazir Khan. He later became Bahadur Shah 1. Both the bride and the bridegroom received a lot of Royal gifts. She gave birth to her first child, her son. Mirza Muhammad escorted her and her son to Aurangzeb and Aurangzeb was the person who gave the name to the baby Rafi Ush Shan.
Qualities of Nur un Nissa Begum
Nur un Nissa Begum had many commendable qualities and she had won Muazzam's heart by her qualities. She was known to be a very helpful woman and famous for her Charity work. She was continuously winning her husband's heart by her amazing behaviour, loyalty and attractiveness.
Accusations
Once she was accused of immorality and being the reason for a message between the ruler of Golconda Abdul Hasan Qutb Shah and Muazzam. Muazzam was sentenced for 7 years jail in Deccan. At the same time his son along with his mother Nur un Nissa were also put in the Separate jail. She used to suffer lot of insults by Aurangzeb's people. She was deprived of property and was cheated. Aurangzeb's officer used to torture her in the jail. During this time her maid Juliana Dias da Costa used to remain with her and helped her.
After releasing from jail
Nur-un-nissa and Muazzam both were released from the jail in 1593. After that Muazzam got appointed as the governor of Kabul in 1699. Nur-un-nissa Begum also joined him.
Death
In the year 1701, Nur un Nissa Begum died in Kabul. As per Niccolao Manucci, she was a very fortunate princess. Muazzam and her son were in a great shock after her death. The time also came when Aurangzeb and his courtiers came to them for the condolences.