What is Palika Bazar famous for?
Palika Bazar market is one of the most famous markets in Delhi. This market is located underground CP (Connaught place). You must be wondering what this market is famous for. This market is mostly famous for electronic gadgets, trendy clothes at an affordable range and many other household useful things which we can buy at much cheaper price.
Palika Bazar is such a market where a lot of bargaining is possible. So if you are good at bargaining then only go to the market of Palika Bazar. It is possible in this market for any product which is worth 1000, while bargaining, the shopkeeper can give it for ₹ 100 or even ₹ 200. This is the specialty of this market. Branded items are also available here at very low prices.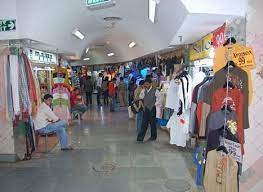 Some important things to keep in mind before going to Palika Bazar
Palika Bazar is a very crowded market. Whatever day you have to go, once make sure that the day is not too crowded, as there is a lot of crowd on Saturday and Sunday, avoid going in such a crowd.
If any of your items are left or lost in the market, don't expect to get them back the next day.
There are many such shops in Palika Bazar where the margins of bargaining are very high, so before buying any item you should know its exact price, otherwise there is a lot of chance that you will be cheated.
Some important things about Palika Bazar
Palika Bazar was first established in 1970.
This market is underground in CP.
Palika Bazar Market is fully air conditioned.
More than 1500 people can enter the Palika Bazar market simultaneously.
This market opens at 10:00 in the morning and closes at 8:00 in the evening.
Palika Bazar Market remains closed on Sundays.
Closest metro station
Rajiv Chowk Metro Station is closest to Palika Bazar Market. This metro station is a multilayered metro junction. It has 8 gates which open directly to Palika Bazar Market. By entering from Gate No. 6, we can enter Palika Bazar Market.
Things we can buy here
Clothing, Watches, leather items like Belt, Bag, Shoes, Perfumes, Suitcase, Mobile and Electronic Appliances
What is Palika Bazar famous for?
Palika Bazar is an underground air conditioned market where very cheap electronic items and clothes are available. Here everything from clothes to sleepwear, shoes, leather goods, electronic gadgets, mobiles, is available at very cheap prices.
Is palika Bazar closed on Sunday?
Palika Bazar operates from Monday to Saturday from 10:00 am to 8:00 pm. This market is closed on Sundays.
---