Priyadarshini Park Mumbai is a peaceful recreation area having a variety of trails, sports options relaxing areas. It has a nice sea view. It is also a great walking place for adults and senior citizens.
Priyadarshini Park spreads in 20 acres of land. It is more than a park. This Park is located in South Mumbai. It is known as the heart of the Mumbai city because people love to visit the park very often. The park is around 30 years old. It serves as the fitness complex and space for sports and fitness activities for the Mumbai people of all age groups. It is a true historical landmark in Mumbai.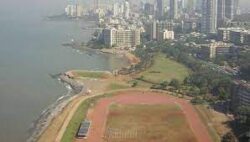 Visiting Detail
Location: Malabar Hill, Mumbai, Maharashtra
Timings: 7:00 am to 1:00 pm | 4:00 pm to 9:00 pm | Sunday: 7:00 am to 1:00 pm
Entry fee: Free
Best time to visit
The best time to visit this Park is during the evening hours and in the early morning hours.
The park is very relaxing and refreshing in the morning and people feel fresh and rejuvenated while visiting in the morning.
Park area
The park has many different sections for all age groups. Senior citizens can walk on jogging tracks in the park. Children play in the park and enjoy themselves. The park is closely connected to the sea which gives a good breeze with Park. generally Priyadarshini park is quite crowded in morning and evening hours.
The best thing about the park is that it has good maintenance that's why children love to play in the park. A lot of green trees are there in the park which make it highly Oxygenated. Senior citizens love this place as they come in the morning and in the evening hours with their peers to spend some quality time together and take good oxygen.
Park opening hours
Sunday to Saturday: 7 a.m. to 1 p.m.
Sunday to Saturday: 4 p.m. to 9 p.m.
Hotels near Priyadarshini Park
Hotel kemps Corner is 1.06 km
The Shalimar Hotel is 1.03 km
Regency Hotel – Nepean Sea Road is 0.57 km
Urbanpod hotel is 2.48 km
The Oberoi Mumbai is 3.99 km
Restaurants near Priyadarshini Park
Truffles chocolate studio is 0.03 km
Sweet Bengal is 0.20 km
Sagar snack is 0.21 km
Country of origin is 0.27 km
Cocoberry is 0.31 km
Attractions near the park
Jain temple
Malabar Hill
Babulnath Temple
Sri Sri Radha Gopinath Temple
Boot House
All Saints Church
Mani Bhavan Gandhi Museum
---