The full form of PVR is Priya village Roadshow full. This was the old name of PVR. PVR Cinema is an Indian movie chain. It has a headquarters located in Gurgaon, Haryana India. PVR in India has evolved in the Multiplex revolution in India. The first Multiplex cinema in India was launched in 1987 in Saket, New Delhi. After that It continued to provide the best quality, environment, updated Technology and the best services for the customers. PVR Cinemas are the unmatched cinemas in comparison to any other cinemas in India.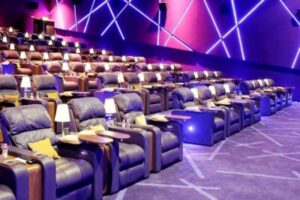 The founder of the PVR Cinemas is Ajay Bijli.
There are around 179 theatres and 846 screens all over the world PVR.
Gautam Dutta is the CEO of PVR.
Website of the PVR Cinema is www.pvrcinemas.com
Net income = < 1.85 billion
Revenue = < 31,200 million
Around more than 5000 employees work for PVR company.
History
PVR was first started in Vasant Vihar Delhi with the name Priya Cinema. So it was named Priya jaisinghani. The PVR company was started as a joint venture among Priya exhibitors Private Limited and village Roadshow Limited in 1995. Commercially it started operating in June 1997. The company was founded by Ajay bijli who is the Chairman and the Managing Director of PVR Cinemas.
PVR Cinema locations in different areas of Delhi
PVR Plaza CP, Delhi
PVR Chanakyapuri Delhi
PVR Anupam Delhi
PVR 3cs Delhi
PVR Pacific Mall Subhash Nagar Delhi
PVR priya Vasant Vihar Delhi
PVR Rivoli CP Delhi
PVR Naraina Delhi
PVR Select City Walk Delhi
PVR icon Delhi
PVR Vegas Kotak IMAX Dwarka Delhi
comedy Delhi
PVR Sangam Delhi
PVR MGF
PVR Cinemas Dwarka Sector 21
PVR Sahara Gurgaon
PVR Shalimar Bagh Delhi
Faqs
How many PVR Cinemas are there in India?
 176 Cinemas are there in 71 cities in India.
Which is the biggest cinema hall in India?
The biggest multiplex in India is megaplex Mayajaal in Chennai
What is the best PVR or Inox? 
PVR
Is the camera installed in PVR Cinemas?
 yes, cameras are installed at PVR Cinemas according to the government directive on foyer and exit areas.
Who is the owner of the PVR Cinemas?
Ajay Bijli who is the founder of PVR is the owner of PVR Cinemas
How does PVR earn money?
The main source for PVR Cinemas to earn money is the sale of movie tickets. And the second source of income is the sale of food and beverages. It also has the other sources of revenue which include income from movie production and distribution income from advertisement.
How can we book movie at PVR Cinemas online?
---