Satya Niketan Park is located in Satya Niketan, South Moti bagh, Delhi.
Satya Niketan Park is one of the best parks in Delhi having lot of green and old trees. Though the park has lesser grass which makes it little dusty but park has a walking or jogging track with a clean footpath. This park is huge and well maintained. Now the park has also provided with the gym machines. Children usually play cricket and other outdoor games in this park. It also has a playzone for children with slides and swings.
The park is surrounded by cafes, cheap restaurants, pg accommodations and hostels. It is one of the favorite hangout places in Delhi for the college students.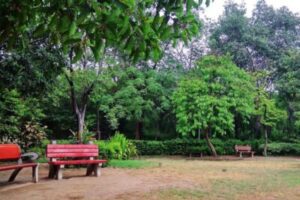 Quick Detail
Location: Satya Niketan, South Moti Bagh, Delhi – 110021
Type: Park
Timings: 24 hours
Days open: all 7 days
Best time to visit: throughout the year
Duration: 1-2 hours
Entry fee: Free
Nearest metro: AIIMS
Nearest Railway station: New Delhi railway station
Positive points about the Park
Satya Niketan park is a dda park which is open 24/7 and good to spend time with family, kids and friends.
The park is a well maintained spacious park with lot of old trees.
The park has the gym machines, flood lights and swings and slides for children.
It is good for morning walkers, runners, exercisers and yoga lovers.
The park has the footpath for walking.
Cafe is also there near the park to eat.
Negative points about the park
This park is not safe for the sports lovers because there are chances of injuries as the park doesn't have the sufficient ground level.
Cleanliness of the park is a bit concern. It has been seen many times that people often urinate in the corners of the park which produces the foul smell.
Couple activities in the park are sometimes uncomfortable for the family and kids.
The park is lack of dustbins to dispose the wastes.
It is more dusty park because of lesser grass.
The park has insufficient track lights.
Nearest Landmark
The park can be easily located which is close to satya Niketan area in South Delhi, Moti Bagh.
Hours of operation
The park is open 24 hours on all the seven days of the week.
Nearby attractions