It is located in the Red Fort Complex at the north-eastern corner of the Royal yard. The Nahr-i-Behisht (a river) is set up with a hydraulic system which runs through the tower which is and is carried by channels Into the other buildings of the Fort. This is adjacent to the south direction of the tower.
It is a white marble pavilion. The pavilion has 5 arcs each of which is supported on fluted columns. The column is attached with a low whale back roof. The centre of the north wall is made up of marble which is then further divided into a curled valley.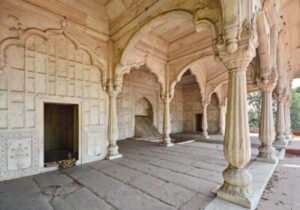 Visiting Detail
Location: Red Fort,

Chandni Chowk

, New Delhi – 110006
Year of construction: Between 1631 and 1640
Constructed By:

Shah Jahan
Structure
Shahi Burj is an octagonal three storey tower in the Red Fort. Shahi Burj means 'Emperor's Tower'. The monument has been constructed in the north east corner of the Red Fort. A white marble pavilion is adjacent to the south of the tower which was constructed during the reign of the sixth mughal emperor Aurangzeb. It was officially by Shah Jahan who also the Red Fort complex.
Deconstruction
During the time of Indian rebellion of 1857. The Tower was damaged by the Britishers. It again got damaged in 1904 during a heavy earthquake. That is the reason earlier there used to be a Chhatri on the top of the tower which is now missing.
Renovation work
A lot of renovation work has been going on at the tower for the last many years. This is one of the reasons it is not open for the public to visit. There is Asad Burj which is a similar tower and is located in the Southeastern corner of Shahi Burj.
The pavillion is five arched standing on fluted columns. There is a marble cascade sloping into a scalloped basin in the centre of the north wall.
In the south-eastern corner, there is a similar tower known by the name Asad Burj. Lot of restoration work have been going on in the tower and the pavilion and so it is closed for public.
The nearest metro station is Chandni Chowk. The best time to visit this area is from 9:30 a.m. to 4:30 p.m. every day except Monday.
Attractions

near Shahi Burj