The article is about the story and some facts of the Queen of Jhansi, Rani Laxmi bai whose original name was Manikarnika Tambe. Laxmibai was the queen of Indian state of Jhansi which is now the Jhansi district in Uttar Pradesh. She was one of the prime personalities of Indian rebellion of 1857. Laxmibai ruled from 21st November 1853 to 10th March 1854. Rani again came into power on 4th June 1857, then she ruled till 5th April 1858.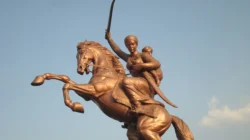 Quick Facts
Real Name: Manikarnika Tambe
Born: 19 November 1828
Died: 18 June 1858
Religion: Hinduism
Spouse: Gangadhar Rao Newalkar
Father: Moropant Tambe
Mother: Bhagirathi Sapre
Famous as: Maharani of Jhansi
Early life
Rani Laxmibai was born in Varanasi in a Marathi Brahmin family. Her childhood name was Manikarnika Tambe. Laxmibai was called by her nickname Manu. Laxmibai's father Moropant Tambe and mother Bhagirathi Sapre both were from Marathi family. When she was just four years old, her mother died.
The story of Manikarnika Tambe is full of struggle and strength. Rani Laxmibai learned to read and write at home. She was also trained in horsemanship, shooting, fencing and mallakhamb along with her childhood friends Tantia Tope and Nana Sahib. Laxmibai was independent in her childhood and very different than any other female child.
She had a regular habit of horse riding. A small escort used to help her in riding between the palace and the temple. Her horses were Pavan, Baadal and Sarangi. It is said that she used Baadal in 1858 when she escaped from the fort. Her palace was known by the name of the Rani Mahal which is now converted to the museum.
Jhansi (1842 to 1857)
Manikarnika was married in may 1842 to Gangadhar Rao Newalkar, the Maharaja of Jhansi. After marriage she was called Laxmibai. She gave birth to a boy whose name was called Damodar Rao but that child died in four months. Gangadhar Rao adopted his cousin's son and was renamed Damodar Rao the day before Maharaja's death. Maharaja declared that after his death Jhansi should be governed by Rani Laxmibai.
Maharaja of Jhansi died in November 1853. Because Damodar Rao was his adopted son, Lord Dalhousie, the Governor General under British East India Company rejected Damodar Rao's swear to throne. Rani Laxmibai was very sad with this news. There was an order to leave the palace and the fort in March 1854. But she stood strong and denied to leave Jhansi.
1857 Rebellion
When Indian rebellion started in may 1857, Laxmibai asked Captain Alexander Skene, the british political leader for the protection. He agreed and provided her the body of armed men. Jhansi city was in peace during this time and Laxmibai too didn't have any thought to rebel against the British until this time.
In june 1857, Bengal native infantry besieged the star fort of Jhansi. She convinced the British not to harm the people of Jhansi but they broke the promise. They brutally killed the European officers of the troop including their wives and children. After four days of destruction sepoys left Jhansi. But they had collected a lot of money from Rani. In addition to this, they threatened the palace of Rani.
Rani wrote a letter to the commissioner of the Saugor about all the things that happened in Jhansi. He replied to her to control the district till the British Superintendent doesn't arrive. In the meanwhile, Maharaja Gangadhar Rao's nephew Sadashiv Rao tried to claim the throne. But the forces of Rani defeated and imprisoned him.
During this time the forces of Company allies Orchha and Datia attacked Jhansi to divide Jhansi among themselves. However, She pleaded with the British for support. But she was unable to get any help as the governor general thought that she was responsible for all the massacre. So she built a foundry for casting cannons on the walls of the fort. She gathered forces including former feudatories to combat the attackers. This helped to defeat the invaders in August 1857.
Siege of Jhansi
Jhansi was in peace from August 1857 to January 1858 under Rani's command. British had declared to send the armed forces to Jhansi to maintain peace. But nobody arrived there to support the party of her advisors who had the prime goal to get Independence from the British rule.
When they arrived in march, Jhansi had now good armed forces and heavy guns. The British commander Hugh Rose ordered the city to surrender, otherwise the city would be destroyed. When Hugh Rose besieged Jhansi, Rani protected the city from the British forces.
British again attacked Jhansi on 24th March 1858. In reply they met by heavy fire. The supporters also asked Tantia Tope for help. Tantia Tope sent 20,000 men but the British defeated them. They continued to siege the city on 2nd April 1858. Fighting was going on between the forces of Jhansi and British.
Rani decided to withdraw from the palace to fort. She took Damodar Rao on her back and jumped on her horse. Rani and Damodar Rao survived but her horse Baadal died. Rani escaped with her son along with escorts namely Khuda Bakhsh Basharat Ali, Lala Bhau Bakshi, Gulam Gaus Khan, Sundar-Mundar, Kashibai, Dost Khan, Moti Bai, Deewan Raghunath Singh and Deewan Jawahar Singh.
She escaped to Kalpi and joined Tantia Tope with some additional forces. They captured the town. On 22nd May 1858, British attacked Kalpi but Rani and her forces defeated them.
Gwalior
Rani fled Gwalior with Tantia Tope and other leaders including Rao Sahib. There they joined Indian forces. They had the strategy to occupy Gwalior, so they moved there. They occupied the city without any objection. Nana Sahib was announced as Peshwa with Rai Sahib as his governor of Gwalior. Rani wanted other rebel leaders to prepare for war against the British attack which was about to happen on Gwalior but she was unsuccessful in convincing them and finally they attacked the city on 16th June 1858.
How did Rani Lakshmi Bai died
On 17th june 1858 near Phool Bagh of Gwalior, a squadron of the 8th Hussars fought with Indian force instructed by Rani. The 8th Hussars slaughtered around 5000 soldiers. Rani Laxmibai wore a sowar's uniform and charged one of the Hussars. She was then unhorsed and badly wounded. Rani was bleeding a lot. She died and after her death local people cremated. Now the British occupied the city of Gwalior after three days of her death. Her tomb has been created in the Phool Bagh area of Gwalior city.
Cultural depictions
Laxmibai National University of Physical Education in Gwalior, Laxmibai National College of Physical Education in Thiruvananthapuram, Maharani Laxmibai Medical College in Jhansi, Rani Laxmibai Central Agricultural University are the institutions named after her.
The Rani Jhansi Marine National Park is in Andaman and Nicobar Islands.
There are many statues of Rani Laxmibai with her son tied on her back can be seen in many places of India.
There are many poems, films, patriotic songs and novels written in her name. The famous poet Subhadra Kumari Chauhan has written a poem. Following are few lines from her poem:
"बुंदेलों हरबोलों के मुँह हमने सुनी कहानी थी, खूब लड़ी मर्दानी वो तो झाँसी वाली रानी थी"