This tomb is dedicated to Abdul Rahim Khan-e-Khana who is also known as Rahim. Rahim was a poet during the rule of the Mughal Emperor Akbar. He was one of the important members of the nine ministers of Akbar's court who was also famous for his hindi dohas.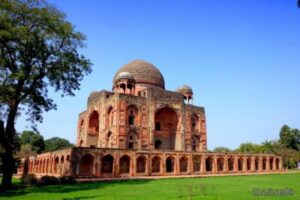 Abdul Rahim was the son of Akbar's trusted mentor, Bairam Khan. Tomb of Abdul Rahim Khan-I-Khana is located in Nizamuddin east near Humayun's tomb on Mathura road in Delhi. Abdul Rahim built this tmb for his wife in 1598 and then in 1627 his body was also buried in it.
The tomb is made of marble and sandstone similar to the Tomb of Safdarjung. Since 2014, InterGlobe Foundation and the Aga Khan Trust for Culture (AKTC) have been maintaining the tomb of Abdul Rahim Khan-I-Khana.
Visiting Detail
Location:

Nizamuddin East, New Delhi – 110013

Timings: 9:00 am to 5:00 pm
Closed: Open all 7 days
Entry fee: Rs.5 per person
Architecture: Mughal architecture
Attractions

near Tomb of Abdul Rahim Khan-I-Khana
Sunder Nursery:

Distance: 2.8km

Chausath Khamba:

Distance: 2.9km

Hazrat Nizamuddin Aulia Dargah:

Distance: 2.8km

Isa Khan's Tomb:

Distance: 2.8km

Bu Halima's Tomb:

Distance: 2.9km

Dr Bhimrao Ambedkar Park:

Distance: 1.7km