When it comes to rooftop restaurants, the first name that comes to our mind is the city of Delhi which is home to every type of restaurant. Here are the top 5 rooftop restaurants which are famous in Delhi.
Thai High
Location: Ambawatta complex, 1091/1 Kalka Das Marg, Mehrauli village, Delhi
Opening hours: 11 a.m. to 1:30 p.m.
Cuisine: Indian and thigh
The main dish of this restaurant is that this rooftop restaurant is very attractive. The guests take away a wonderful experience from here. And when it comes to Thai food, this restaurant is a favourite among people. Another special thing about this restaurant is that it has a view of Qutub Minar from its terrace. For this reason it is also a favourite destination for tourists. This place is very open and airy, where people like to sit and eat food. The evening view of this restaurant is very classical. People often bring cameras and capture the pictures of Qutub Minar from the rooftop restaurant. It is one of the best rooftop restaurants in Delhi.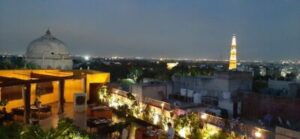 Amalfi
Location: M-60, first floor, M block Market, great Kailash part 2, New Delhi
Opening hours: 12 p.m. to 11:30 p.m.
Cuisine: Italian
If you are fond of music then this will be a great destination for you. Malfi is in Greater Kailash and it is one of Delhi's best and most popular rooftop restaurants. People often visit here from South Delhi.
If you are looking for a place to have a romantic dinner, then there is probably no better place in Delhi than this. The atmosphere of the evening in Amalfi is created on sight. There is a 3-level seating capacity arrangement here. In the evening, in the open area, musicians fascinate people with their music and make the evening very pleasant.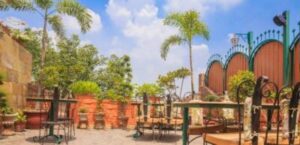 Parikrama
Location: 24th floor, Antriksh bhawan, 22, KG Marg, Connaught place, Delhi
Opening hours: 12:30 p.m. to 11:30 p.m.
Cuisine: Mughlai and North Indian
This restaurant is 240 feet high. If you are with your partner or with someone who is also your best friend, then this Restaurant will prove to be your best bet. Parikrama is one of the topmost rooftop restaurants in India from where you can see the whole world at a glance. Most people come here for a romantic dinner and to gaze at the beauty of Delhi from the top.
Here you will feel like you have come to a paradise and you will feel a very beautiful environment.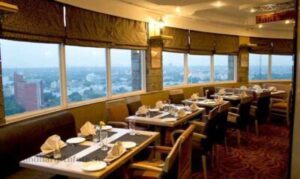 Dramz
Location: 1580/1 KD marg, near qutub minar, Mehrauli, New Delhi
Opening hours: 1:00 p.m. to 1:00 a.m.
Cuisine: North Indian
This Indian restaurant is the kind of place where you are at any time and can enjoy it to the fullest. The General public enjoys drinks at this rooftop restaurant. However, the menu options in this restaurant are wide. Kadai Paneer, Chicken Tikka, Alfredo are some of the famous dishes here. In the evening, people like to have Gulkand Nitro ice cream, which is also the specialty of this restaurant.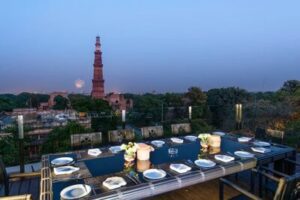 The sky high
Location: C-306 A, 307, 3rd floor, Ansal Plaza, New Delhi
Opening hours: 12:00 p.m. to 1:00 a.m.
Cuisine: North Indian
This restaurant is famous for its rooftop seating arrangement. This is also one of the best and favourite rooftop cafes in Delhi. Especially people visit here for candle light dinners with their romantic partner.
Here there are many options available in the menu. Usually come with their partners to spend some quality time with them and enjoy soulful live music with good food that makes the atmosphere here even more beautiful. Peri Peri Pizza and Dal Makhani are the special dishes here which are loved by everyone.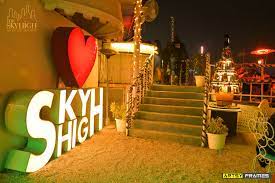 ---