Uttara Swami Malai Temple which is generally known as Malai Mandir located in Delhi on Palam Marg in sector 7 is a hindu temple. This temple is devoted to Lord Swaminatha (Kartikeya, son of Goddess Parvati). Lord Swaminatha is also known as Lord Murugan in Tamil. It is mostly admired by the south Indian hindu community in Delhi.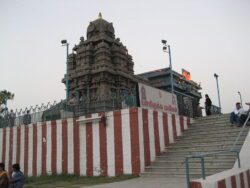 Visiting Detail
Location: Palam Marg, Sector 7, R.K. Puram, New Delhi – 110022
Timings: 5:30 am to 12:00 pm | 5:00 pm to 8:30 pm
Closed: Open all 7 days
Photography: Not allowed
Type: Hindu Temple (Tamil architecture)
Deity: Kartikeya (son of Goddess Parvati)
Religion: Hinduism
Built By: Sri Swaminatha Swami Seva Samaj
Construction Completed: 7th June 1973
Architecture
Uttara Swami Malai Temple which is devoted to Lord Swaminatha or Murugan Temple located on small hill. The manifestation of Lord Swaminatha's motto "Yaamirukka Bayamain" has been written on the main gate of the temple in tamil language which means "Why fear when I am there?".
The temple is built mostly of granite. Malai Temple has been inspired by the south Indian Chola style (Tamil dynasty) signifying Tamil architecture. Swami Malai complex has many temples which are devoted to the following Lords:
Temple devoted to the elder brother of Lord Kartikeya and hindu Lord "Vinayaka" or "Ganesha".
One of the temples in the complex is devoted to Lord Shiva, the father of Lord Kartikeya and Ganesha.
Temple devoted to Goddess Meenakshi or Parvati, the mother of Lord Kartikeya and Ganesha.
The above temples in the complex have been inspired by the Pandya style (Madurai style) of Tamil architecture. The same style of architecture has been followed in the construction of the Meenakshi Temple in Madurai, Tamil Nadu. The temple has also adopted a peacock as a pet bird which is considered to be Lord Kartikeya's vahana or vehicle as per hindu tradition.
Attractions near Uttara Swami Malai Temple