Zafar Mahal is located in Mehrauli village in South Delhi which is also known as the Jangli Mahal. The reason behind this name is that during the time Zafar Mahal was built, the Mehrauli was a hilly and wooded area. Zafar Mahal is also known as the last monument made during the declining years of Mughals. It was built as a summer palace.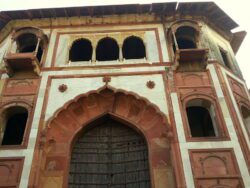 Visiting Detail
Location: Mehrauli Village, Kalka Das Marg, Mehrauli, Delhi 110030
Timings: 09:00 am to 06:00 pm
Architecture: Mughal Style Architecture
Architect:

Akbar Shah II

and

Bahadur Shah II

Completed: 19th Century
Overview
Zafar Mahal has 2 parts: One is the palace or Mahal which was built by the father of Akbar Shah II during the 18th century. The second part is the entrance gate built by Bahadur Shah II ("Zafar") in the 19th century. "Zafar" means victory. Bahadur Shah Zafar wanted to be buried in the vicinity of Zafar Mahal. The British had banished the famous Dargah of Khwaja Qutbuddin Bakhtiar Kaki located in Mehrauli to Rangoon after the first war of Indian Rebellion in 1857. He died in this Dargah of old age which is in demolished state in present.
History
Zafar Mahal was the last summer monumental structure built by the Mughals who ruled Delhi for more than 330 years. After the expel of Bahadur Shah II to Rangoon by the British, the condition of this historical monument was ruined.
The mausoleum in the vicinity of Zafar Mahal was built by Jahandar Shah, the father of Bahadur Shah I. Ali Gohar also known as Shah Alam II was also buried in Zafar Mahal who was being blinded by Ghulam Qadir. Shah Alam II was known a puppet ruler under the Marathas and then under the British. His son Akbar Shah II was also buried in this palace. Mirza Fakruddin who was the son of Bahadur Shah II was also buried here.
Unfortunately, Bahadur Shah II who died in november 1862 had the wish to get buried in Zafar Mahal was deported to Rangoon and was buried there.