Why Zaveri Bazar is famous?
Zaveri Bazar in Mumbai is famous for jewellery shops and its a major destination for B2B and B2C jewellery industry in Mumbai, India. It is Located at Bhuleshwar in South Mumbai, north of Crawford Market. Zaveri Bazar has lot of narrow lanes with hundreds of jewellery shops selling gems and jewels. Some the famous jewellers are Tribhovandas Bhimji Zaveri (TBZ), Dwarkadas Chandumal, Dhirajlal Bhimji Zaveri & UTZ.  Zaveri Bazar has around 65% of all gold trading and dealing services in India. 
Zaveri Bazar also offers a variety of other merchandise such as textiles, antique items, and household goods.
The significance of the name 'Zaveri'
The name "Zaveri Bazar" comes from the Gujarati word "Jhaveri Bazaar," which translates to "Jeweler's Market. It is said there was a jeweller named Ambalal Zaveri in the early nineties. He was very famous for his excellent quality of gold. But after his death, his reputation slowly decreased because of disputes among his sons.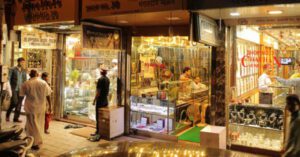 Visiting Detail
Location: Bhuleshwar, South Mumbai, Maharashtra
Closed: Sunday
Market Timings: 10.00 am to 7.30 pm
---
The religious significance of Zaveri Bazar
Apart from the jewelry trade, Zaveri Bazar is also known for its religious significance. The market has several temples, including the famous Mumbadevi Temple. The Mumbadevi Temple is dedicated to the goddess of Mumbai which was built in the 18th century.
The food and beverage options available in the area
There are many restaurants in the area that serve Indian and international cuisine from traditional Indian thalis to Chinese and Italian dishes.
One of the must-try food options in Zaveri Bazar is the famous Bombay sandwich. This sandwich is unique to Mumbai and is made with a mix of vegetables, spices, and chutneys that give it a distinct flavor. You can find this sandwich at several street food stalls in the area.
There are several sweet shops in the area that serve traditional Indian sweets such as pedas, barfis, and laddoos.