This park is spread in 3 acres of land. It is the symbol of friendship between India and Africa. The garden more than 6,000 rose saplings of 65 varieties. These varieties of roses have been collected from all parts of the country.
National Indo-African Friendship Rose Garden which is located in Chanakyapuri Delhi and is popularly known as National Rose Garden. People usually visit the garden during the winter season from November to March. This is one of the best picnic spots for family and children.
This Garden is full of beautiful roses. During the winters this garden looks very beautiful because during this time it is full of blooming roses and greenery. One of the best features of this Garden is the fountain which can be found running during the morning and evening hours. It was inaugurated in 2015 by Sushma Swaraj who was external affairs minister during that time.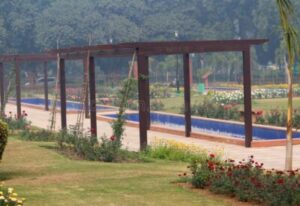 Visiting Detail
Location: Satya Marg Chanakyapuri, New Delhi – 110021
Timings: 9:00 am to 10:00 pm
Entry fee: Free
Purpose of India Africa friendship Garden
This symbolises the true friendship between Africa and India. It is located near the Rail Museum in Delhi. The government has really put a nice effort in making this place safe and beautiful. This is located at one side of Satya Marg Shantipath Chanakyapuri. People coming from Moti Bagh to Shanti panth will find the park on the right side.
Nice family picnic spot
India Africa Rose friendship garden can be a nice spot for a family gathering and for children because of its beautiful aroma and open and airy area.
Development of the park
Park has been developed and maintained by NDMC, (New Delhi Municipal Council) and is located at Shanti Path in Chanakyapuri. It is spread over many acres of land at Satyam Junction. There are more than 6000 varieties of roses there in the park which have been collected from different locations of the country. They have been maintained very beautifully. The park has a small water pond with a lot of lilies which look so mesmerising.
The park is not meant not only for family gatherings, but it is also a nice spot for jogging, exercising and running specially for the people who love to be fit.
Attractions near National Indo-African Friendship Rose Garden