Akbar Shah II
Akbar Shah II who is also known as Akbar II was the 18th emperor of the Mughal Empire. He was the father of the 19th Mughal Emperor Bahadur Shah II and the second son of Alam Shah II.
During his reign (1806 to 1837), the power of British was increasing in India to which his power was decreasing. Akbar II had also sent Ram Mohan Roy to Britain as an ambassador and offered him the title of Raja (king). Moreover, British East India Company discontinued issuing coins in his name in 1835. Akbar Shah II is known for initiating the Hindu-Muslim festival "Phool walo ki sair". Akbar Shah II was buried next to Qutbuddin Bakhtiar Kaki's dargah in Mehrauli, Delhi.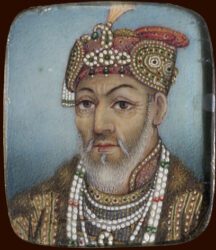 Quick Facts
Full Name: Abu Nasir Muin ud-din Muhammad Akbar Shah II
Born: 22nd April 1760
Died: 28th September 1837
Reign: 1806 to 1837
Religion: Islam
Dynasty: Timurid
Spouse: Lal Bai, Selah-un-Nissa, Gumani Khanum
Father: Shah Alam II
Mother: Qudsia Begum
Famous as: 18th Mughal Emperor
---
The Early Years and reign
Akbar Shah II attended the Royal Military School in England and then the Royal Military College at Sandhurst. He later served in the Iranian Army and was stationed in the Iranian-occupied Iraqi territory of Khuzestan.
In 1981, Akbar Shah II married Princess Elisabeth of Belgium; the couple has two children: Princess Mahdeja and Prince Karim.
He reigned until his death in 1967, during which time he was considered one of the most powerful and influential men in the world.