What are trampolines?
Trampoline is a device having strong fabric which is stretched between a steel frame with many coiled strings. It is not necessary that a trampoline must have a spring. For example spring free trampoline doesn't have a spring instead it uses a glass free and forced plastic rod. Gurgaon too has trampoline park, out of which we are going to discuss the top 3 of them.
People love to bounce on the trampoline and enjoy it at the fullest.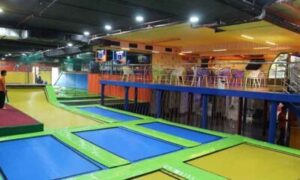 There are many temperline parks which are famous in Gurgaon where kids and families love to visit to enjoy their weekends and holidays by doing trampoline activities.
Activities related to the trampoline parks require a lot of energy which at the end results in loss of calories so people who are fitness freaks and wanted to shred some extra kilos, these trampolines are the best workouts for them.
Trampolines are best suited for fun loving and enthusiastic people who want to spend their holiday with family and kids.
Here we are going to discuss the top 3 trampoline parks in Gurgaon which are must visiting fun places.
It is the most famous and the biggest trampoline park in Gurgaon which is operational 24 hours. It is located in Sohna road Gurgaon in Sector 47. This place is for both family and kids.
Address: ILD Trade centre, Badshahpur Sohna Road Highway, D1 Block, Malibu Town, Sector 47, Gurugram, Haryana 122018
Operational hours: 11:30 a.m. to 9:00 p.m. all 7 days a week.
Website: http://skyjumpertp.com/
Zooper India trampoline park Gurgaon
This is located in RD city near RD Mall Sector 52 Gurgaon. This is also one of the most loved and fun filled activity places for both kids and families.
Address: Block B, Ardee City,Near Ardee mall, Sector 52, Gurugram, Haryana 122003
Operational hours: 11:30 a.m. to 9:00 p.m. all 7 days a week
Website: https://zooperindia.com/
Masti zone trampoline park in Gurgaon
This is located in floreal towers in Sector 83 gurugram this is operational from 10 a.m. to 10:00 p.m.
Address: 2nd Floor Entertainland Floreal Towers, NH 48, Sector 83, Gurugram, Haryana 122004
Operational hours: 10:00 a.m. to 10:00 p.m. all 7 days a week
---