Karol bagh market is located in the west of Delhi it is one of the most popular markets in Delhi. Thousands of shoppers can be seen looking into a market for a good deal. Karol Bagh market is also famous for street shops which can be seen on both sides of the road shopping mainly for cheaper clothes at reasonable price including the bridal shopping.
Karol bagh market Is famous for its food, wedding shopping, jewellery shopping, stationery shopping and many other wholesale items. This market is very similar to the chandni chowk market, Sarojini Nagar market and Lajpat Nagar market in Delhi.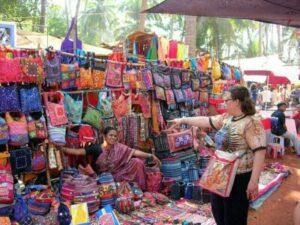 Karol Bagh market famous for
Karol Bagh market is mostly famous for the clothes variety and availability. Girls like to visit Karol Bagh market for branded shopping as well as local daily wear clothes which are available at one place at reasonable prices.
Let's check out the top 5 things to do in Karol bagh.
Gaffar Market is one of the most famous electronic markets in New Delhi which is located in Karol Bagh. People love to visit Gaffar Market when they want to buy electronic items at much cheaper prices in comparison to other markets. The Gaffar market provides better deals on electronic gadgets and devices. People also get second hand devices like phones, laptops, gaming applications and TV at much lower prices which result in saving their money in the end.
Jhandewalan Hanuman Mandir
This temple is devoted to Hindu God Hanuman Ji. This is a 108 feet tall statue. It is located near the jhandewalan area bordering the Karol Bagh. One can see this statue from very far as this is a very tall statue and this is worth seeing.
Peshawari chicken in Pitampura
Peshawar chicken corner is located in Pitampura market area of Karol Bagh. This is one of the famous non vegetarian recipes liked by the locals and the visitors. They generally provide this dish with rumali roti, garlic Naan or tandoori roti. They offer many other items which are famous like handi chicken, Afghani chicken and butter chicken. This is also a must visit place for the non vegetarian people who like to try varieties in non veggies.
Roshan di kulfi is a kulfi shop which is older than 60 years and they sell ice creams of different varieties in the streets of Karol Bagh market. This shop is very famous for its delicious and creamy kulfi faluda desert. It was initially started in 1954 as a small ice cream stall but later with time it became a big kulfi joint liked by the locals and the visitors. This is one of the most visited places in the Karol Bagh area. They have their own authentic taste which is unmatched.
Arya samaj road for book shopping
Arya Samaj road is famous for all types of books including second hand books at much lower prices. You can also get those types of books in this area which you have it ever heard of before. So this is the must visit place for book lovers.
Karol bagh is famous for jewellery shopping, wholesale garments and monday market too.
Jewellery shopping at Bank Street
Karol Bagh market is also famous for a variety of jewelleries at reasonable prices. And Bank street area is famous for the jewellery shopping whether it is a bridal shopping or normal jewellery ethnic shopping, this place is liked by the jewellry shoppers.
Wholesale cloth shopping
Tank road is famous for wholesale garment shopping in Karol Bagh. Tank road has a lot of shops which offer non branded items which will be very similar to the original branded items at much lower prices. So if you are not a brand guy you can visit this area for shopping which looks like branded clothes.
Monday market
Monday is the day in a week in Karol Bagh where a lot of free shops are available at one stop for budget shopping. People can find curtains, clothes and many other household items at much lower prices in the Monday market.
karol bagh mobile market
Karol Bagh is also famous for mobile dealers, second hand mobile shops who offer mobiles at much cheaper rates. There are many retail shops also in the Karol Bagh selling the latest mobile phones in the market at affordable ranges.
Let's look at some of the famous mobile dealers and shops:
Bhagwati Electronics
Address: Shop No, 126, Hardhyan Singh Marg, Gaffar Market, Block 23, MCD Market, Karol Bagh, New Delhi, Delhi 110005
Timings: 11:30 am – 9 pm
Closed on: Monday
---
Aman mobile shop
Address: India Mobile Plaza, Shop No 3 & 4, Ground Floor, 13/35, Hong Kong, Arya Samaj Rd, Opposite Gaffar Market, Karol Bagh, New Delhi, Delhi 110005
Timings: 12:00 am – 8 pm
Closed on: Monday
---
Mobile Style
Address: 3312/27, Saraswati Marg, Block 44Q, Beadonpura, Karol Bagh, New Delhi, Delhi 110005
Timings: 10:30 am – 8 pm
Closed on: Open all 7 days
---
Hotspot Mobile Store
Address: Shop No-73, Gaffar Market, Karol Bagh, New Delhi, Delhi 110005
Timings: 10:00 am – 10:00 pm
Closed on: Open all 7 days
---
Market timings
Karol Bagh market generally opens at 11 a.m. and continues to open till 11 in the night.
Nearest metro station
Karol Bagh metro station available on the blue line is the nearest metro station for Karol Bagh market.
What is famous in Karol Bagh market?
Karol Bagh is famous for Gaffar Market. This market Is famous for electronic items, mobile phones,  computers, laptops, ear phones and many other electronic accessories. Karol Bagh is famous for the Ajmal Khan road which is famous for selling the street side accessories at much cheaper rates.
---