What is Kamla Nagar Market famous for?
Kamla Nagar Market is located next to North Campus of Delhi University. This is also one of the famous flea or street markets in Delhi like the other street markets like Sarojini Nagar market, Lajpat Nagar market, Palika Bazar and Karol Bagh market. Kamla Nagar Market in Delhi is known for its wide range of shops, from trendy clothing stores to unique jewelry shops and street food stalls.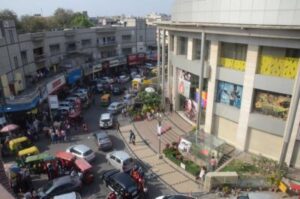 Visiting Detail
Address: Kamla Nagar market, Delhi – 110007
Closed: Monday
Market Timings: 11.00 am to 9.00 pm
Nearest metro station: Pratap Nagar metro station, Vishwa vidyalaya metro station
---
History
The market is named after Kamla Nehru, the wife of India's first Prime Minister, Jawaharlal Nehru. It was established in the 1950s.
The market is divided into several lanes, each specializing in a particular category of products.
Kamla Nagar Market has a rich history that dates back to the pre-Independence era. It was originally a residential area. However, as more people began to settle in the area, shops and businesses started to emerge.
Must-visit shops in Kamla Nagar Market
Here are some of the must-visit shops in Kamla Nagar Market that you should add to your itinerary:

1. Vaishno Footwear: This shop has a wide range of shoes, sandals, and boots for men and women.

2. Om Book Shop: Om Book Shop is a popular bookstore in Kamla Nagar Market that offers an extensive collection of books in different genres, including fiction, non-fiction, and academic books.

3. Chache Di Hatti: If you're in the mood for some delicious North Indian food, head to Chache Di Hatti. This small eatery is also famous for its chole bhature served with fluffy deep-fried bread.

4. QD's Restaurant: QD's Restaurant is a popular spot in Kamla Nagar Market that serves some of the best Chinese cuisine in the area.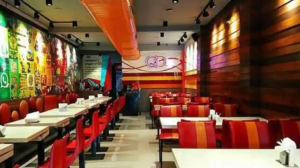 5. Janta Sweets: Janta Sweets is a well-known sweet shop that offers a wide range of traditional Indian sweets, including gulab jamun, rasgulla, and peda.
Fashion and clothing stores
The Kamla Nagar market is home to a plethora of fashion and clothing stores some them are listed below:
Big C: This store is the perfect destination for trendy and stylish western wear. They have a wide range of dresses, tops, skirts, and jeans that are perfect for college-goers and young adults.
Fabindia: This store is known for its ethnic wear and handmade products specially famous for its wide range of kurtas, sarees, and home decor items.
Frontier Raas: This store is famous for bridal wear or party wear. They have a stunning collection of lehengas, sarees, and gowns that are perfect for weddings and special occasions.
Meena Bazaar: This is one of the oldest and most popular stores in Kamla Nagar Market. They have a beautiful collection of traditional Indian wear, including sarees, lehengas, and suits.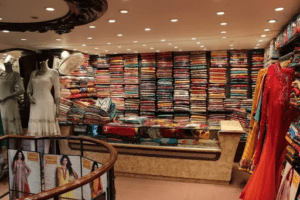 Bookstores and stationery shops
Kamla Nagar Market is also famous for bookstores and stationary shops.
The Book Shop: This book store has been around for over 60 years and is known for its extensive collection of books on a variety of subjects.
The Oxford Bookstore: This store is a favorite among students and academics because of its large collection of academic textbooks and reference books.
Raja Stationers: This store has been around for over 30 years and is popular for its unique and quirky stationery items. From colorful pens and notebooks to funky bookmarks and stickers, Raja Stationers has it all.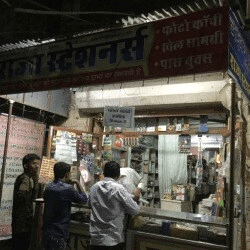 Street food and sweet shops
The market is home to a number of street food vendors serving up mouth-watering chaats, samosas, kachoris, and more.
Jain Chawal Wale: This is one of the most popular street food vendors in Kamla Nagar Market, which is known for its delicious aloo tikki and chole bhature.
Vaishno Chaat Bhandar: This is another must-visit Chaat Bhandar, which is famous for its papdi chaat and golgappas.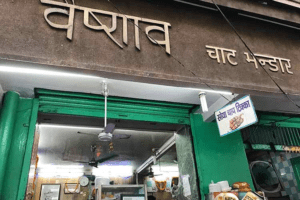 Roshan Di Kulfi: One of the most famous sweet shops in the market is Roshan Di Kulfi, which has been serving up delicious kulfi for over 60 years.
Shyam Sweets: Shyam Sweets is known for its mouth-watering rasgullas and gulab jamuns. They also serve a variety of delicious ice cream flavors.
How to get to Kamla Nagar Market
If you're traveling by metro, the nearest station is the Vishwavidyalaya Metro Station, which is on the yellow line. Once you reach the station, you can either take a rickshaw or walk to the market, which is approximately 1.5 kilometers away.
Alternatively, if you're traveling by car or taxi, you can use GPS to navigate your way to Kamla Nagar Market. There are various parking lots available in the market, so you can park your vehicle and explore the area.