Sai Baba Mandir or Shirdi Sai Baba Mandir is one of the oldest temple in New Delhi located on Lodhi Road which is close to Jawaharlal Nehru stadium. Because of the reason the temple is built along the roadside, it attracts lot of devotees everyday. One of the main features of this temple is that the temple is very simple from inside and the walls and the idols are gold plated. There are lot of small shops surrounding the temple from where the devotees can buy prasad or flowers to offer to Sai Baba idol.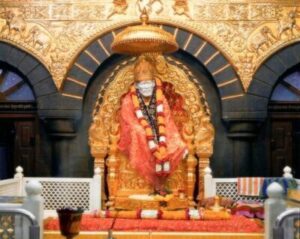 Visiting Detail
Location: Lodhi Road, Institutional Area, Lodhi Colony, New Delhi – 110003
Timings: 5:00 am to 11:00 pm
Entry: Free
Type: Hindu Temple
Deity: Shirdi Sai Baba
Religion: Hinduism
Construction Completed: August 1972
Overview
Sai Baba temple is devoted to the Indian spiritual leader Sai Baba also known as Shirdi Sai Baba. He was a saint or fakir who was admired by both Hindu and Muslims. Nobody knows he was a hindu or a muslim because he was against distinction based on religion. His teachings include both hindu and muslim elements.
Sai Baba mandir starts with Kakad Aarti in the morning at 5:30, Noon Aarti during 12:30 pm to 1:00 pm, Dhoop Aarti during sunset and closes with Shej Aarti in the night. Though devotees come to the temple everyday throughout the year but thursday is the special day in week for Sai Baba.
History
Earlier the Sai Baba community wanted to build memorial in the memory of Shirdi Sai Baba. Then later, Shri Bhag Chand Taneja and Shri Krishan Chand Dhawan were 2 businessmen who suggested to build Sai Baba temple for the Sai Baba devotees. Then the temple was established in August 1972 and looked after by Shri Sai Bhakt Samaj community. Sai Baba devotees visit the temple and offer prasad (sweets), flowers and chadar to Sai Baba idol.
Attractions

near Sai Baba Mandir