Sri Sri Radha Parthasarathi mandir known as ISKCON temple Delhi is the temple of Lord Krishna and Radharani which is one of the largest temples in India.
Sri Sri Radha Parthasarathi mandir (the ISKCON temple Delhi) was established in the year 1998 by the prime minister of India Atal Bihari Vajpayee. Achyut Kanvinde, an Indian architect who designed and built the temple in 1993 for the followers of Srila Prabhupada. ISKCON temple in Delhi is the biggest Hare Krishna temple in the capital.
This ISKCON temple is one of the largest temples in India consisting of many rooms for priests and service helpers. The temple has many large halls which are used for different seminars and administrative purposes.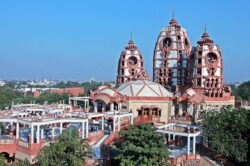 Quick Detail
Location: Hare Krishna Hills, Sant Nagar, East of Kailash, New Delhi
Timings: 4.30 am to 1.00 pm & 4.00 pm to 9.00 pm
Deity: Radha Parthasarathi
Type: Hindu temple architecture
Year completed: 1998
Closed: All 7 days open
Entry fee: free
Is Photography allowed: No
Is Parking available: Yes
Website: http://www.iskcondelhi.com/
Inside ISKCON temple Delhi
ISKCON temple is designed on the traditional hindu architecture. The interior of the temple is decorate with many Russian art describing the life instances of Radha And Krishna. Central hall of the temple has the several sculptures of Radha and Krishna and many other Indian deities.
The temple is beautifully decorated during the Indian festive occasions like Krishna Janmashtami, Guru Purnima, Radha Ashtami, Govardhan Puja and Ram Navami.
Glory of India Vedic Cultural Centre
The ISKCON temple houses the Glory of India Vedic Cultural Centre, a popular destination or callers and excursionists to learn about major Hindu textbooks which are presented using colorful multimedia technologies. These are the following:
Bhagavad Gita (Animatronics): This show has the dramatic narration where the visitors learn the five major concepts of Bhagavad Gita.
Mahabharat:

This is a light and sound show representing the story of Mahabharat.

Ramayana

(Art Gallery):

This gallery has more than 30 oil paintings describing the story of Ramayana made by ISKCON members from different parts of the world including USA, UK, India etc.
Bhagavata Purana

(Exhibition): This is an exhibition showing the Bhagavata Purana in visual format to the visitors.

Krishna jayanti park:

The temple has a large green park with waterfall, pond and lot of greenery surrounding it.

Vedic Library:

The temple has a library with more than 2000 collection of books on Ramayana, mahabharat, Bhagavad Gita.

Restaurant:

The temple has a vegetarian restaurant inside the premises which is open to all the visitors.
The Glory of India Vedic Cultural Centre holds the Astounding Bhagavad Gita, which is the largest published book of the major textbook of any world religion. The Italian published Astounding Bhagavad Gita, weighs 800 kg and measures over 2.8 metres, was unveiled by the Prime Minister of India Narendra Modi on 26 February, 2019 in the presence of Tridandi Sanyasi Gopal Krishna Goswami and India's Culture Minister Dr Mahesh Sharma.
How to reach ISKCON temple Delhi
Nearest Metro Station to ISKCON temple Delhi: Nehru Place | Distance: 1.0 km
Nearest Railway Station: Nizamuddin Railway Station | Distance: 4.5 km

IGI airport:

Distance: 20.0 km
List of ISKCON temple Delhi
Click here for detailed list: https://centres.iskcon.org/centre-region/delhi/
ISKCON, Dwarka
ISKCON, Punjabi Bagh
ISKCON, Chipiwara
ISKCON, Chhatarpur
ISKCON, Rohini,
ISKCON, Paschim Vihar
ISKCON, Panchsheel
ISKCON, Mahipalpur
Nearby attractions