Agrasen Ki Baoli is also known as Ugrasen ki Baodi. This monument is being maintained by Archaeological Survey of India (ASI) under "Ancient Monuments and Archaeological Sites and Remains Act" of 1958. Baoli or Baodi is a hindi word which means stepwell. In ancient times, water step wells were built as water reservoirs. Some of the examples of early form of water step wells are built in Dholavira (archaeological site in Gujarat).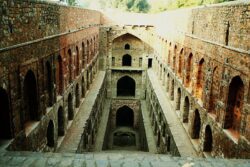 Its length is 60 meters and width is 15 meters located on Hailey Road near Jantar Mantar, New Delhi. It is believed that the baoli was built initially by Maharaja Agrasen. However there are no such proven records on it. It is reconstructed later in 14th century during the period of Delhi Sultanate which is the present structure.
Agrasen ki Baoli has also been identified as one of the haunted places in Delhi. Many people have noticed that the water of the reservoir has a paranormal power which attracts the person as you go down and sometimes people jump into it to end their lives.
Visiting Detail
Location: Hailey Road, KG Marg, New Delhi, Delhi – 110001
Timings: 09:00 am to 05:30 pm
Entry: Free
Architecture: Hindu Style
Meaning of word 'Baoli'
Baoli or bawdi is a Hindi word derived from Sanskrit vapi or vapika. This word is more common in Rajasthan and Gujarat which is used for step well. These type of water temples and temple step wells were built in olden times in India.
Architecture
The Baoli has 108 steps as go down to the water level. A slight decrease in the temperature can also be felt as we go down. Each step has 3 level and each level has arched niches on both the sides. The whole structure has been built using mixed rocks and stones. The stepwell has a rectangular shape making it unique in comparison to other baolis built in Delhi which are round in shape.
The Baoli remains dry most of the year and it gets filled up with water generally during the monsoon.
There is also a small mosque in the south west corner of the Baoli. A triple arched gate is there to enter the mosque supported by sandstone pillars which are beautifully ornamented.
Popularity of baoli in Today's culture
The Baoli has been used in the shooting of bollywood movie PK starring Aamir Khan.
The movie Sultan starring Salman Khan has also the scenes of the Baoli.
The location of Baoli has been used in the movie Mom starring Sridevi in 2017.
The location of Baoli has been used in the photo shoot of Formula One models.
This location has been used in the second episode of "The Amazing Race Australia 2" in 2012.
Attractions

near

Agrasen Ki Baoli
Madame Tussauds Delhi:

Distance:

1.3km

Jantar Mantar:

Distance:

1.1km

Children's Park:

Distance:

2.2km

India Gate: Distance:

2.2km

National Gallery of Modern Art:

Distance:

2.9km

Charkha Museum:

Distance:

1.5km

Indira Gandhi National Centre for Arts:

Distance:

1.9km

Amar Jawan Jyoti:

Distance:

2.2km

National Museum of Natural History:

Distance:

1.4km

Metro Museum:

Distance:

1.5km

National war memorial:

Distance:

2.0km

Lalit Kala Academy:

Distance:

1.6km

Janpath Market:

Distance:

1.2km

National Museum:

Distance:

2.3km