Street market mumbai
Mumbai, which is the commercial capital of India has many markets which are also known as Sarojini Nagar market of Mumbai.
These 16 markets are very famous among the local people and the people coming from the outside to Mumbai. We are going to describe some of these markets below.
Colaba causeway market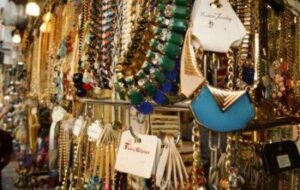 This market, famous as the Sarojini Nagar Market in Mumbai has a lot of scattered stalls in row, selling bags, shoes and many beautiful and day to day used household items. The shopkeepers are seen selling t-shirts, vibrant clothes and many accessories which are liked by the local people and outside people. So basically the causeway is famous for the small stalls selling a lot of useful items.
One has to keep digging deeper and deeper and one should be very proficient in bargaining. There are very high chances of bargaining in the causeway market Colaba. The market is mostly famous among tourists and locals. The shopkeepers in the causeway market has gain more benefit from the tourist people in terms of earning money by selling their products
This market is also known by the name Mahatma Jyotiba Phule Mandai, which is basically a Muslim area. This is one of the most populated areas. As this is basically Muslim area so lot of green flags canl be seen hanging around in this area. Sounds of Azaan can be heard in loud voices in this area.
Crawford market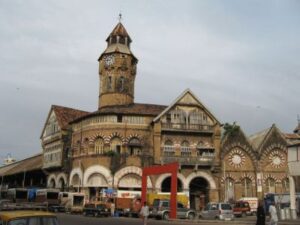 The crawford market is overcrowded because of the wholesale supply of vegetables and fruits. The shopkeepers can be seen selling new props for parties, toys for kids and many other small day to day useful things.
Shopkeepers applying henna on the lady's hands can be seen sitting on one side of the road and making hand prints. This is the historical market with a lot of historical buildings having their own charm reminding of the olden days.
Chor Bazaar
Chor Bazaar in Mumbai market is overcrowded which is around 150 years old. This market gives an image of the thieves market that's why it is famous as Chor Bazaar. The speciality of this market is that most of the things are either stolen or are brought into the market illegally.
The name has been derived from chor bazar in Hindi which means thieves market in English. This is a very noisy and very crowded market and at the same time a very famous market among the people who cannot spend much money and buy their useful things.
That's why it is one of the most famous markets in Mumbai.
This is a very interesting market so I suggest one should visit this market if you travel to Mumbai. The market has a lot of devices like laptops, accessories, jewellery, bags, lamps and electric items. Because of the reason most of the items are stolen or about illegally, they are very cheap and the price form which can be afforded by anyone.
Mangaldas market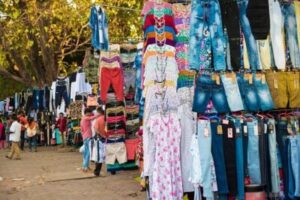 The speciality of Mangaldas market is that it is famous in selling a variety of clothes either traditional or trendy clothes. This market also has many shops who sell a variety of unstitched garments having a lot of beautiful designs drawn on Indian outfits. This market is very close to Crawford Market which is also one of the largest textile markets in Asia.
Mangaldas market is also famous for wedding shopping in Mumbai. They offer a variety of products at cheaper rates which are useful for a bride to be. And again this market is also a bargaining market. The people who are good at bargaining get better deals in this market on clothes and other things needed.
Linking road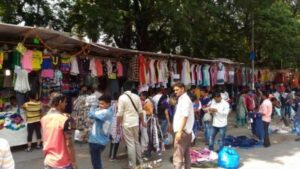 linking road in Mumbai as a lot of street stalls on both the sides of the road. These street stalls are there along with the showrooms on the Linking Road. Street stalls are so overcrowded that it seems that they are linked together because of lack of space in the area. Stalls generally have collections of bags, shoes accessories, mobile accessories, belts, Indian traditional and western cloth.
Variety of branded shops are also available on the Linking Road where the people can buy their favourite brand accessories. One should avoid going on Sundays to this market because it is overcrowded during this time.
Kala Ghoda pavement gallery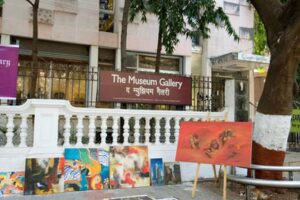 There are foot parts on both sides of the Jehangir art gallery. That is why this area is known as Kala Ghoda pavement gallery. This area is famous for artwork, paintings, religious or modern art. This is generally done by the young artists and they get the best price on their art by selling them. The people who are very interested in the art wall, who want to buy the artistic things, this is the one of the best marketplaces to visit.
One of the best things about this Kala Ghoda pavement gallery is that the young actors are very interactive with audiences. They interact with the visitors calmly and describe their work. One can get a lot of information about their art work by talking to them. They also tell about the techniques they use to make the art. The best time to visit this market is from 11a.m. to 7 p.m.
Fashion Street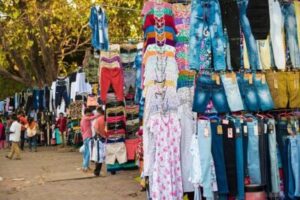 Fashion street is famous among the teen age people and the young people who really like the brand items like the Puma, Niki and many other brands. Generally this area is famous among brand lovers. The best thing about this market is that they sell the products at cheaper prices in comparison to other markets like the bags, watches, mobile accessories and clutch, handbag and shoes here in this market at cheaper prices.
Generally college going students visit this market because of lack of money and they are able to buy the things they need according to their pocket.
This area is for the of the Western clothes and trendy clothes. Some sellers also sell some branded products which are actually not the original brands, they are fake brands. But people like those products and used to buy them.
Zaveri Bazar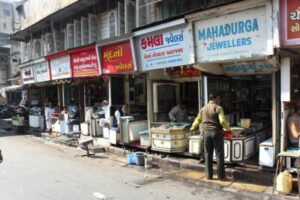 Zaveri means glitter. This market is the famous place for the jewellry work, the jewellery shops that is why it is known as the Zaveri Bazar. The sellers like him bhimji Zaveri, Dwarka Das chandu, u t z, dhirajlal Bhimji Zaveri etc are some of the famous Jewellers shops there in this Zaveri market.
There are many shops in this market selling precious gemstones and jewellery with ethnic designs as well as modern designs. This market is located to the north of the Crawford market. This is a big market so one should have enough time to visit this market.
Mirchi Galli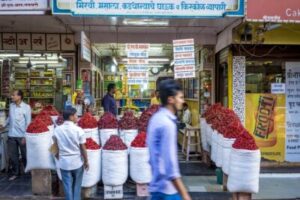 This is one of the most famous Spice markets in Mumbai. This market has a lot of sellers selling good quality premium dry fruits sweets, spices, snacks and nuts in small shops. As the name says chilli market, this is famous for chilli products.
This is one of the favourite markets for the people who love buying authentic spices for more than hundred years. The locals as well as tourist often visit this market to buy the spices. This is the busy market throughout the year.
Dadar flower market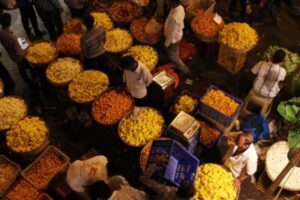 As the name says this market is a Dadar flower market where the flower seller can be seen selling a variety of colourful flowers. Generally the shops open in the early morning around 6 a.m. This area is very narrow but there are a lot of shops which are crowded in rows. This is known as a wholesale market of flowers which sells the variety of flowers at cheaper rates. Flowers are also exported from this area to different places of Mumbai and outside Mumbai too. Even the ritual flowers and also bought from this area like the Tulsi leaves and the flowers which are used in Puja and traditional things at home. Garlands for four weddings and other events in temples are also bought from this area.
Hill Road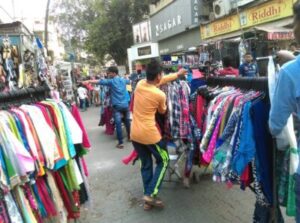 Hill Road market is located in Bandra which is generally known as Sarojini Nagar of Mumbai. This is also a big bargaining market and one of the famous flea markets in Mumbai. The market starts from the Bandra station and ends at Mehboob studios. Again this is a market of all, whether it's traditional or trendy western clothes everything is available at this market at much cheaper rate.
This market is again famous among the local people and the tourist people. Every type of accessory whether it's shoes, belts , bags and cosmetic items everything is available in this market. International brand shops are also available in this market. This market is for all.
Lokhandwala market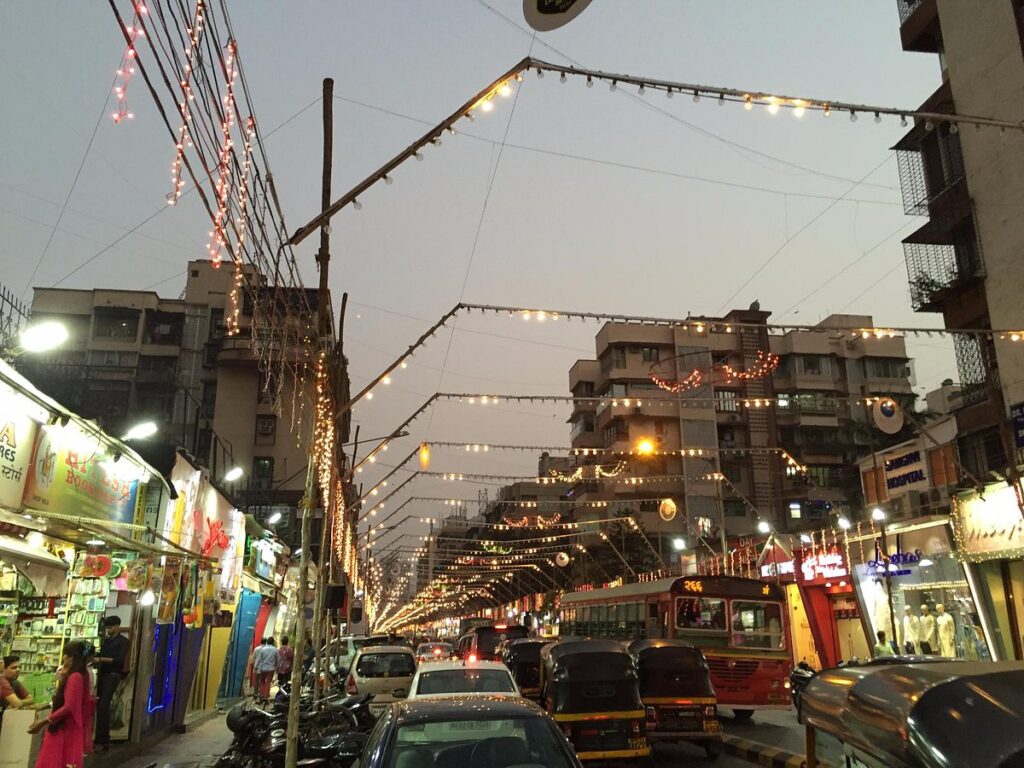 Lokhandwala market is a high energy and very busy market in Mumbai City. This market is also famous among the girls and women who are looking for traditional and western fashion clothes, jewellery, accessories, bags and footwear. This market has everything whether its fruits, flowers or Electronics or any other household items. The people love eating their favourite food items like sev Puri, Bhelpuri, Panipuri on the streets of this market.
Lalbaug market
Lalbaug market is one of the famous markets in Mumbai which is very famous for spices as they are very original and have a natural taste. This is also located in a narrow area where the shops are standing on the coinjusted rows. There are many small shops that connected to one another and overcrowded.
This market is famous mostly for coriander powder, the turmeric, Garam Masala, Sun dried Red Chillies, sandalwood and many other Indian spices used at Indian homes. The best thing about this area is that the shops selling the spices in this market are very authentic, one selling better quality spices than any other cities in mumbai.
Dharavi Leather market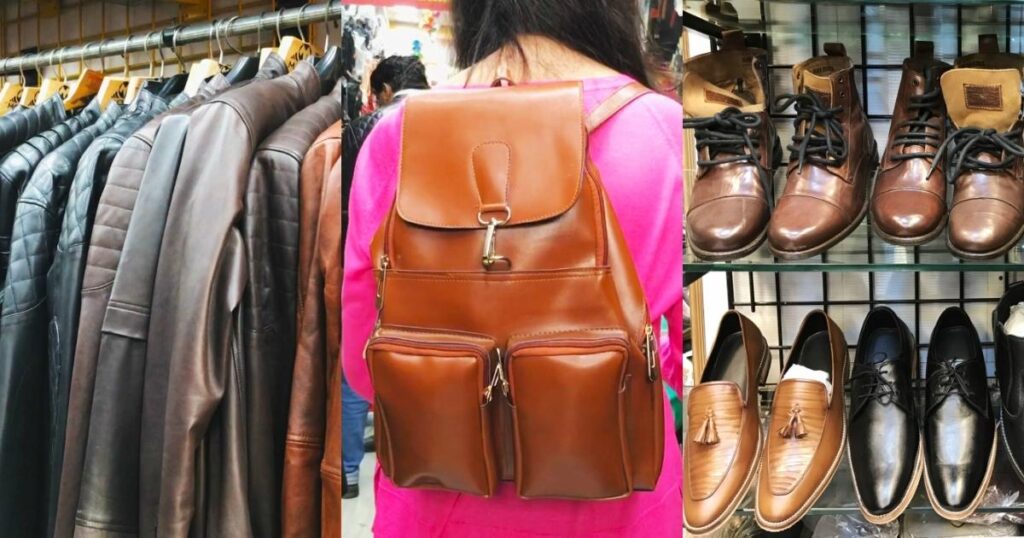 This market is the leader among many markets of the last 10 to 20 years. In Mumbai we can find the high quality leather not at much higher rates. Lot of showrooms and shops are available in this market selling very good premium quality leather made handbags, bags, slings etc. The shops in this market also sell backpacks, trolley bags, laptops, bags, wallets, belts, jackets which are good in quality and cheaper in rates.
Flora fountain book Street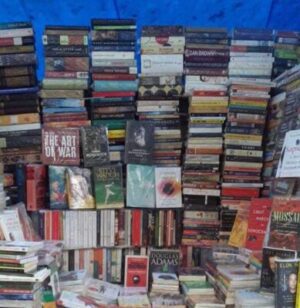 This market is famous for the books at much cheaper and affordable rates. The shops run on much narrow Pathways. The book lovers like this place a lot. Any type of books are available in this market whether it is school book, college book, story books, horror or drama books. One of the famous things about this market is that it has an iconic structure of flora fountain which was established in 1864. It has a white oil paint coat.
CP tank the bangle market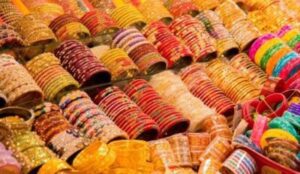 This market is very close to Crawford and Mangaldas market. The market is basically famous for its collection of bangles. People often visit this market when they want to buy colourful bangles, sarees and ethnic dresses. There are a lot of varieties of bangles like plastic bangles, glass bangles, copper bangles, alloy bangles and iron bangles which really attract the customers. Quality and quantity of the bangles is the main speciality of this market.
---