Qutub Minar also spelled as Qutb Minar is the tallest minaret or tower in India. It forms the part of Qutb complex, A Unesco World Heritage Site which is also known as The "Victory Tower" of Delhi.
Who built Qutub Minar?
Qutub Minar is named after Qutub-ud-din Aibak, the first ruler of the Delhi Sultanate who established Qutub Minar in the year 1192. He created the ground storey. In addition to this, his successor Iltutmish created three more storeys on the top. Due to lightning in 1369 the topmost storey of Qutub Minar's top got damaged. Firuz Shah Tughlaq restored Qutub Minar thereafter and added another storey.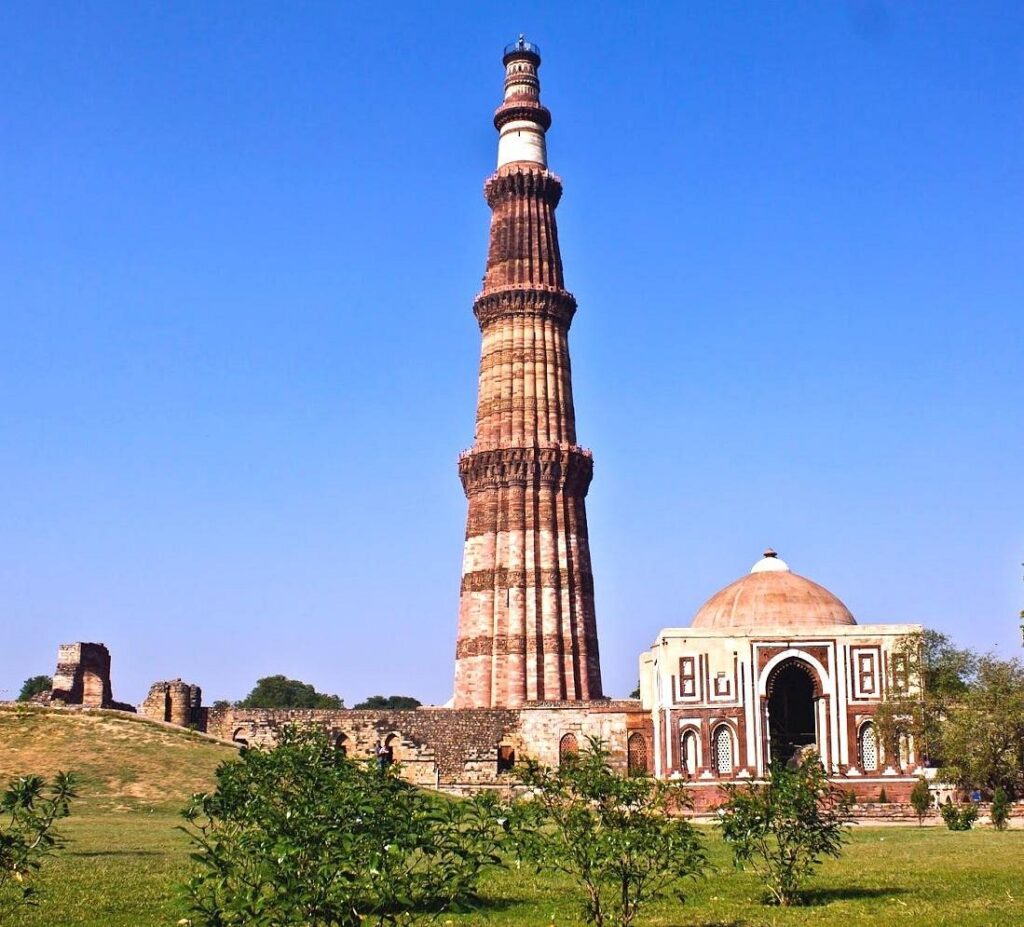 Visiting Detail
Location: Seth sarai mehrauli new delhi delhi
Timings: 7.00 am to 7.00 pm
Closed: Open all days
Best time to visit: October to March
Entry fee: Rs. 30 for Indian | Rs. 500 for Foreigner
Is Photography allowed: Yes
Is Guide available: Yes
History
In A.D. 1198, Qutub-ud-Din Aibak built Quwwat-ul-Islam Mosque to the north east of the Qutub Minar. This mosque complex is one of the earliest mosques which is surviving in India. It has a rectangular enclosure with carved columns and 27 Hindu and Jain temples. Qutub-ud-Din Aibak destroyed these temples. Later, Shams Ud Din Iltutmish and Alauddin Khilji enlarged the mosque by erecting the high sky screen. There is an iron pillar in the enclosure of the minar which has inscription in Sanskrit written in Brahmi script of the fourth century
Due to earthquake in 1505 Qutub Minar got damaged again. Thus Sikander Lodi repaired it later. In the year 1803, there was a major earthquake. As a result, there was a major damage of Qutub Minar. But Major Robert Smith reconstructed it along with a pillared rounded ceiling over the fifth storey in 1828. Major Robert was the part of British army that time. After that, he also built the sixth storey. Moreover, he reinstalled the rounded ceiling at the ground level of Qutub Minar which is known as Smith's Folly today.
Architecture
Qutub Minar is based on the design of Minaret of Jam which is located in Western Afghanistan. Qutub Minar is 240 feet tall and it's base is 47 feet in diameter which reduces to 9 feet to the top. It has a spiral staircase with 379 steps.
There are many inscriptions in Parso Arabic and Nagari characters in various sections of Qutub Minar. It has 5 tapering storeys. The lowest three storeys are made of red sandstone and have balconies. The fourth one is plain and is made of marble. Though, fifth one is made of both marble and red sandstone. The bottom of the tower has Quwwat ul Islam Mosque. There are many inspirations of Qutub Minar after it's creation. Chand Minar and Mini Qutub Minar are some of the examples.
Firoz Shah Tughlaq (1351–89) and Sikandar Lodi (1489–1990) later restored and repaired different sections of Qutub Minar.
Calligraphy on Qutub Minar
Walls of Qutub Minar has Quran chapters in Islamic calligraphy. There was prohibition of Figurative art that time since it was believed to be the Christian iconography. Two major Arabic scripts, Kufi and Naskh developed in the seventh century. Islamic community was spreading all over the world during that time. Qutub Minar complex has both the scripts.
Alai Darwaza
Alai Darwaza is the domed entrance which opens from the southern side of the Quwwat-ul-Islam Mosque to Qutub Minar. Alauddin Khilji built Alai Darwaza in 1311. Alai Darwaza which is made of red sandstone and white marble is one of the oldest buildings in India. And it's construction is based on Islamic architecture which has has beautiful arches and fringes.
Calamities
Entrance to the top of the Qutub Minar was prohibited because of increase in number of suicides which raised to more than 1000.
Lightning in the staircase failed on 4 December 1981 due to which more than 400 people were stuck and rushed towards the exit. Around 47 people were killed and many were injured in this incident.
Most of the school students were injured in these incidents. Thereafter the tower has been closed for the public and entry fees are also strict.
Popularity
Actor Dev Anand has done the shooting for his film "Tere Ghar ke Samne" in the model of Qutub Minar. Earlier they wanted to do the shooting inside the tower but because of its narrow passage the camera was not able to enter the tower.
Qutub Minar has served as the Pit Stop for the Australian reality game show, The Amazing Race Australia.
Qutub Minar has been used as the feature image in the travel card used in DMRC, Delhi Metro Rail Corporation.
Ministry of Tourism has given 'Letters of Intent' to the seven companies for 14 monuments under a scheme, 'Adopt a Heritage'. Qutub Minar is also the part of the 14 monuments.
How to reach Qutub Minar
Qutub Minar metro station is the nearest metro station. It is just 2 km far from Qutub Minar fort. After reaching metro station we can either hire paddled rickshaw or auto rickshaw to reach Qutub Minar fort. Though, bus services are also available for various routes to reach the fort.
Parking at Qutub Minar Fort
There is an authorized parking space opposite to the entrance of the Qutub Minar fort. So you don't have to worry for parking if you are commuting by your own vehicle.